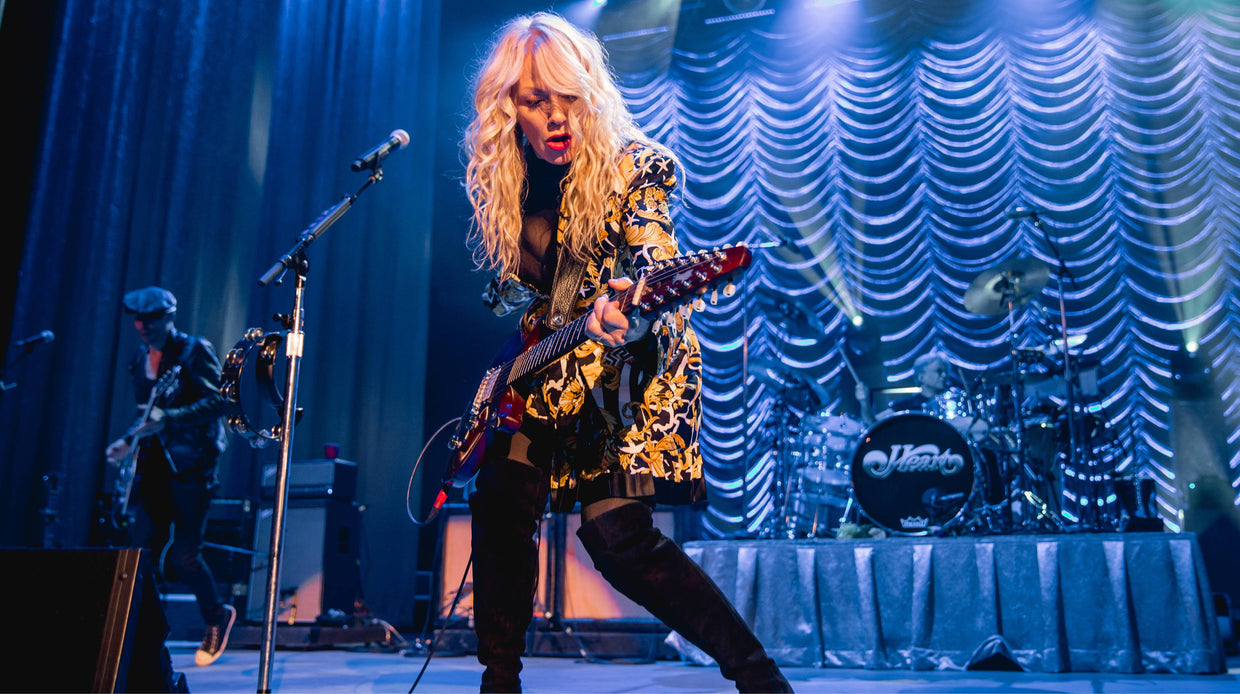 August 22, 2022By tom.gilbert@positivegrid.com BigCommerce 0 Comment
10 Awesome Rock n Roll Moms
By Alexx Calise
We've officially hit the mother lode with this list of incredible rock star moms!
To celebrate Mother's Day, we're highlighting (in no specific order) ten of the hardest working moms in rock n roll. Whether they have managed to juggle tour life with the duties of motherhood, written songs about their children, or even produced some musical offspring of their own, there's no denying that these moms are totally badass.
10 Awesome Rock n Roll Moms
Heart's Nancy Wilson has been busy this year. The Rock & Roll Hall of Fame inductee just debuted her new signature Epiphone guitar, and she recently released her first ever solo album called You and Me. One of the album's tracks, "The Inbetween," was derived from a whimsical poem that one of her sons Curtis wrote for a class assignment growing up. Wilson said that "this is really relevant for our times that we're living through. But putting it in the context of something more fun—a funny take on it all—takes it away from being so heavy and dark."
Known for her signature snarl, gravelly vocals, and (at one point) towering liberty spikes, Brody Dalle exploded onto the underground punk scene at only 20 years old with her band The Distillers. Since their debut nearly two decades ago, Dalle has also pursued her own solo career and another project called Spinnerette, appeared on tracks for Eagles of Death Metal, and lent her vocals to the Queens of the Stone Age's song, "You Got a Killer Scene There, Man." The rock n roll mom also shares 3 children with QotSA's frontman Josh Homme: Camille, 15, Wolf, 5, and Orrin, 9. Dalle's kids are often the subjects of her Instagram posts, in which they're seen posing backstage with rock royalty like Doyle Wolfgang von Frankenstein of the Misfits or showing off their impressive archery skills.
Now this is one musician mom you oughta know! Canadian artist Alanis Morrisette's fiercely feminine LP Jagged Little Pill is still incredibly relevant today, and it's even spawned a Tony award-winning musical of the same name over 20 years later.
The songstress found love with hip hop artist Mario Treadway (known professionally as Souleye), and the couple have three children together: Onyx, Ever, and Winter. Onyx made a guest appearance during Morrisette's Tonight Show performance last year (see above), in which she bounces on mom's lap and asks her questions while the singer belts out new tune, "Ablaze." Morrisette looks completely unfazed by her precocious daughter's banter, and still delivers a pitch-perfect version of the tune that would be difficult to perform even without a toddler in tow.
You may remember her from her 1995 smash hit "Mother, Mother," but it turns out that Oregonian multi-instrumentalist Tracy Bonham is also a mother herself. The two-time Grammy-nominated musician has a young son who inspired her to create the educational music project "Tracy Bonham and Melodeon Music House," which integrates music basics with fun, sing-songy tunes. It may be intended for kids, but tunes like "Beats to a Measure'' are actually a great way to understand music theory fundamentals no matter what your age.
With her operatic vocals and Victorian gothic frocks, the incomparable Amy Lee captured our little black hearts in the early 2000s with her band Evanescence's "Bring Me to Life."
Now a mother to 6-year-old Jack Lion, Lee revealed at one point that she thought motherhood may not give her enough time to work on music, but later found that it gave her "a showering of inspiration and fuel." In 2016, Lee released Dream Too Much, a children's album co-written with members of her family. The title track (which features a charming stop-motion music video) describes an adorable dream sequence involving flying sandwiches, a watermelon tower, and a band of monkeys.
Perhaps one of the most influential figures in punk rock history, Patti Smith has been called the "punk poet laureate." Best known for the hit single "Because the Night," co-written with Bruce Springsteen, this pioneering performer is mom to Jackson and Jesse, whom she parents with MC5 guitarist Fred "Sonic" Smith. Like their folks, the Smith children are also musicians in their own right. Jackson has played on several of his mom's albums, and Jesse has been performing and collaborating with other artists globally since 2004.
For Patti, being a mother has been a continuing source of inspiration in her music. Take her 2004 album Trampin' which includes the touching "Mother Rose." Who says motherhood isn't punk?
In addition to being a multiple Grammy-winner and an advocate for several health, LGBTQ+, and women's rights causes, alt-country crooner Brandi Carlile is also "The Mother'' to two beautiful little girls: Evangeline, 6 and Elijah, 3 whom she parents with her wife Catherine Shepard. An ode to her firstborn, Carlile's 2019 anthem "The Mother" also catalogues her experience with motherhood in general.
It's been a long time since Cherie Currie sang for iconic all-girl rock band The Runaways, where this rock n roll mom was once called "the lost daughter of Iggy Pop and Brigitte Bardot." After her departure from the group in the late '70s, Currie went on to have a solo career (which also included her sister, Marie) and star in the movie Foxes alongside Jodie Foster. These days, she's a wood-carving artist who has been using a chainsaw to sculpt her works since 2002.
Currie married actor Robert Hays in the early '90s, and the pair had one child named Jake. It seems the acorn doesn't fall too far from the tree, as Jake is also a musician and multi-talented creative. Jake has written songs with his mom, his band has toured with the likes of Bad Suns and Cold War Kids, and he's acted in a variety of indie film projects. At this rate, we can expect him to pick up chainsaw carving by 2025.
Carol Kaye, one of the most prolific and distinguished bass players in pop and rock music history, has played on an astounding 10,000+ recordings over her 50 year career. Part of the Wrecking Crew, an elite group of LA-based session musicians in the '50s, '60s and '70s, you can hear Kaye on some of the most iconic songs and albums of all time, including the 1966 Batman theme, "You've Lost That Lovin' Feeling" by the Righteous Brothers, and Brian Wilson's Beach Boys masterpiece, Pet Sounds. The "First Lady of Bass," who was named by Rolling Stone as "one of the greatest bass players of all time," has three children.
Indie rock darling Corin Tucker has always had music in her blood, taking after her father, who was also a folk singer. In addition to performing with Sleater-Kinney for over 11 years, the vocalist and guitarist also played in a variety of projects including Cadallaca, Filthy Friends and the Corin Tucker Band. Tucker married filmmaker Lance Bangs in 2000 and has two children; Marshall and Glory.
Fun fact: Corin Tucker's entire family has at one point or another guest-starred on the show Portlandia, proving that the family that plays together stays together!
Final Thoughts: 10 Awesome Rock n Roll Moms
Do your mama proud and rock out with our #1 best-selling Spark amp, which allows you to practice smarter, not harder (quite literally–this practice amp is built with intelligent technology!). Dial in up to 10,000 different opti-mum tones (like the ones your favorite rock n roll moms use), jam with your own virtual band, and display guitar chords to any song in real time as you play. It's really that simple. Learn more here.
---
Alexx Calise is an accomplished singer, guitarist, and songwriter. In addition to her musical pursuits, she also works in public relations and marketing, writes for a variety of publications, and hosts/creates content for Guitar World. More information about Alexx can be found at alexxcalise.net.