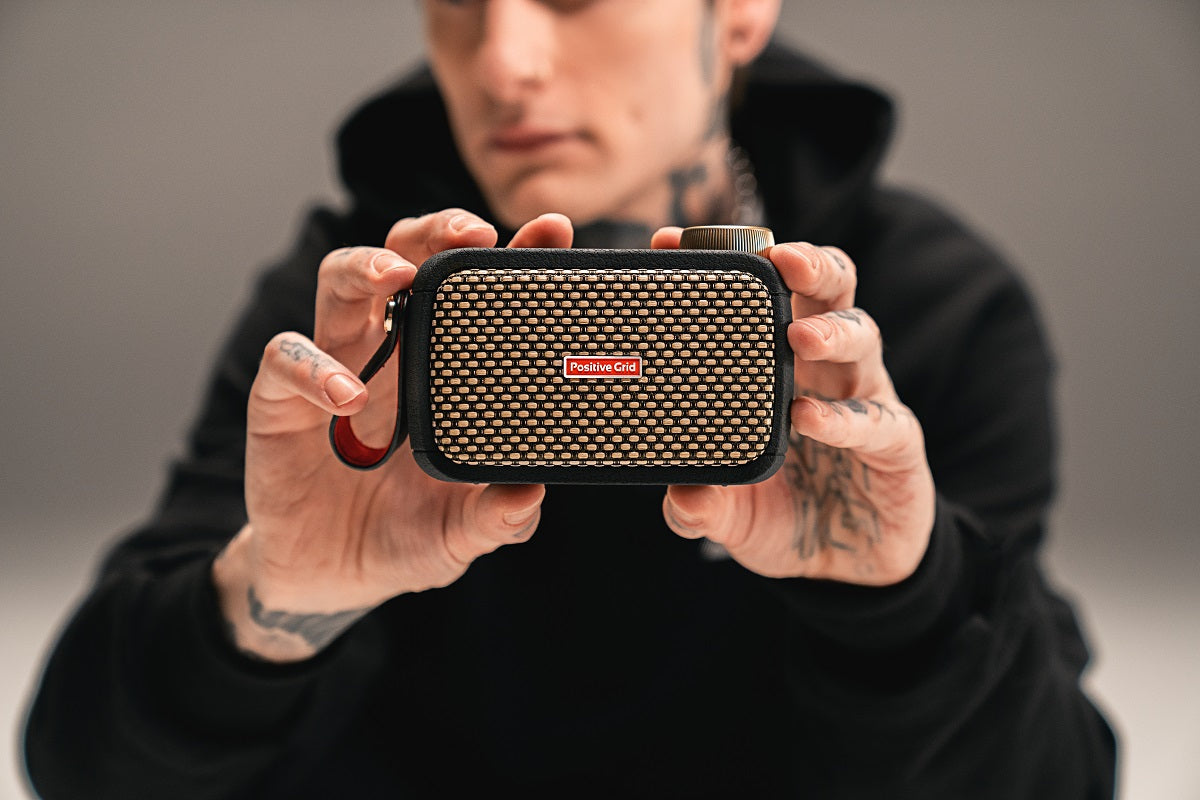 March 30, 2023By Joshua Fernandez 0 Comment
5 Reasons You Need Spark GO
Wallet, cell phone, keys. These are usually the 3 essential things everyone needs when leaving the house…right? Well not for a guitarist it isn't – guitar, amp, pedals. Yeah, that's more like it. Problem is, it's near impossible to carry all 3 without some help or at least multiple trips back and forth from the van.
Enter Spark GO, the ultra-portable smart guitar amp and Bluetooth speaker that's small enough to fit in your gig bag. That's right, everything you need that doesn't require crazy arm gymnastics or a mini workout to get where you're going. If that isn't reason enough to pick up one of these tiny powerhouses, then here's 5 more:
Play more guitar
We've all been there - the guitar is calling our name but you just can't seem to find the motivation to pick it up and play. Maybe the amp is too heavy, or it's buried under a pile of other gear. With Spark GO, there's no excuse not to play. Its ultra-portable size means you can take it with you wherever you go – it's the amp that travels to you, not the other way around. And with up to 8 hours of battery life, you can spend more time playing and less time charging.
Play loud and proud
Sometimes you need to crank up the volume and let the neighbors know you're a guitarist. Not just another headphone amp, Spark GO can fill a room with rich, full sound. It's also a great way to show your bandmates that new riff you've been writing. But hey, if you want to immerse yourself in tone heaven without waking up the neighborhood, you always have the option to plug in a pair of your favorite headphones and jam as loud as you want. 
Jam with your idols
We all have our guitar heroes. With Spark GO, you can jam along like you're on stage or in the studio with them. Connect your mobile device via Bluetooth to stream and play along with your favorite songs. Want to learn the chords to a new song? Open the Spark app and search for that song in the Music page and Auto Chords will detect the chords – all in real-time!
100% compatible with the Spark app
The Spark GO is fully compatible with the Spark app, giving you access to all the gear (33 amps and 43 pedals to be exact!) that over 300,000 guitarists around the world love. The Spark app unlocks all of Spark GO's smart features such as Smart Jam, Auto Chords, custom presets and more. Plus you can connect to ToneCloud where you can download 50,000+ tones created by guitarists worldwide.  
Doesn't break the bank
You might think that all of this power and versatility comes with a hefty price tag, but Spark GO is surprisingly affordable. At under $200, it's a fraction of the cost of a traditional guitar amplifier. And with its compact size and battery-powered design, you won't need to spend a fortune on additional gear to get the most out of it.
Spark GO is an indispensable tool for every guitarist who wants to take their playing to the next level. With its portable and versatile design, you won't have any excuses not to play, wherever you are. Its affordable price tag doesn't compromise its quality and power, which makes it an excellent investment for both beginners and experienced guitarists. So why not ditch the heavy gear and experience the convenience and power of the Spark GO? Your guitar playing (and your arms!) will thank you for it.
Learn more about Spark GO.