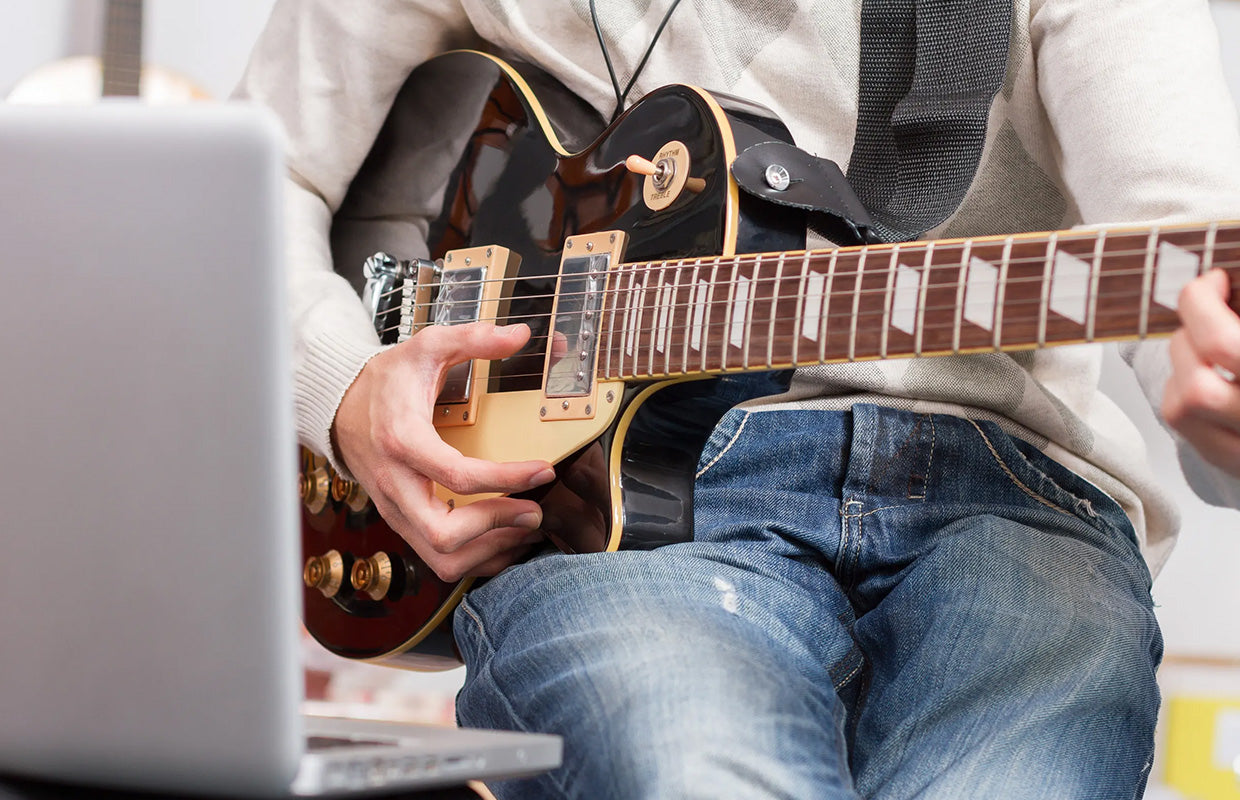 August 22, 2022By Brad Tolinski 0 Comment
A Guide to Guitar Backing Tracks
While practicing guitar and playing music by yourself can be fun, there's nothing quite like the energy and inspiration you get when jamming with other musicians. The good news is, with the plethora of backing tracks available online, that option is always available to you day or night.
In this particular blog, we're going to focus on the best free guitar backing tracks, because, as we all know, free is good—and happily there are a wealth of options. The websites listed below offer stellar quality accompaniment tracks to just about any style of music you could hope for, from metal to blues and everything in between, so we've got all your bases covered here.
A Guide to Guitar Backing Tracks
What is a backing track? Simply put, it's an audio recording of a rhythm section or other accompaniment parts that you can play along with. There are a wide range of backing tracks available in a number of different genres, including classic rock, metal, jazz, funk and blues, and they include recreations of classic songs and generic chord progressions that you can play along with and improvise to.
Now with that out of the way, let's check out some backing tracks!
When the legendary Guitar Backing Tracks website unexpectedly closed its doors in mid-2021, the guitar community was at a loss. Thankfully, Wikiloops swiftly stepped up to the plate to give players the premier backing track experience they deserve.
A well-organized free site that "connects the world's home studios online" and shares original guitar backing tracks made by their own users, Wikiloops thrives on its close-knit community. A special "jamtrack search tool" allows you to choose backing tracks from 21 different genres, including often neglected styles like bossa nova, ska, dub and hip-hop, as well as the standard blues, jazz, metal and rock categories. The tool also allows you to choose what instruments you want to accompany you, and filter by key, time signature and tempo. There are literally hours of fun to be had on this site.
This track is embedded with the friendly permission by the creatives on
wikiloops.com
.
YouTube is another easy and terrific resource for some of the best online free guitar backing tracks. For example, a search for "acoustic backing tracks," reveals hundreds of possibilities in a number of different keys with titles like "Melancholy Acoustic Guitar Backing Track in C Minor" (see below). Many of these tracks loop for 10 minutes or more, so you'll have plenty of time to jam along before you have to hit replay. Another bonus is, many YouTube tracks are accompanied with suggestions regarding guitar scales that work over the accompaniment.
In the case of YouTube, the more specific you can get, the better. For example, we tried searching "acoustic backing tracks Eagles," and we came across dozens of backing tracks in the style of the Eagles, including the one seen below. Replace "Eagles" with any artist of your choice, and you'll likely find options that suit your needs.
The same approach that applies to YouTube also applies to SoundCloud. For example, we searched "blues guitar backing tracks SoundCloud" and were rewarded with hundreds of options in dozens of styles and keys. We particularly enjoyed this rather lush B minor blues guitar backing track in the style of B.B. King.
If you are already paying for Spotify, you might be surprised to discover that the app also has a sizable list of top-notch guitar backing tracks.
The best part about finding cool backing tracks on Spotify is that oftentimes, someone did all of the hard work for you! A quick search of "Funk Backing Tracks" pulls up several different playlists, meaning you can spend all day cherrypicking your favorites. For example, Sebastien Zunino's playlist of the same name clocks in at a whopping 17 hours long. That's a lot of funk to sift through!
We've looked at some great options for tracks that you can play along to. But what if you had the option to access backing tracks that played along with you? If that sounds futuristic, well, welcome to the future!
By now, most of you are probably acquainted with Positive Grid's revolutionary Spark 40-watt practice amp. While the amp sounds incredible and allows you access over 10,000 tones, it has many additional features.
Perhaps the most intriguing is an artificial intelligence component that has the ability to learn your style and feel, then generate authentic bass and drum grooves to accompany you at whatever tempo you desire. Find out more here.
Final Thoughts: A Guide to Guitar Backing Tracks
The point to all of this, is there is no reason to practice your guitar or bass to the monotonous tick-tock of a metronome, when you can get the same results by playing to an entire rhythm section—one that can jam in any key, at any tempo, for as long as you like, without any complaints. Using backing tracks will make any practice session more enjoyable and more productive.
---
Brad Tolinski is perhaps best known for his work as the editor-in-chief of Guitar World magazine for 25 years. He is also the author of Light and Shade: Conversations with Jimmy Page (Crown); and Play It Loud: An Epic History of the Style, Sound and Revolution of the Electric Guitar (Doubleday), which was the basis for a 2019 guitar-focused exhibition at the Metropolitan Museum of Art in New York City. Most recently he edited the 50th Anniversary Commemorative Issue of CREEM magazine, and his latest book Eruption: Conversations with Eddie Van Halen (Hachette) will be coming out in October 2021.