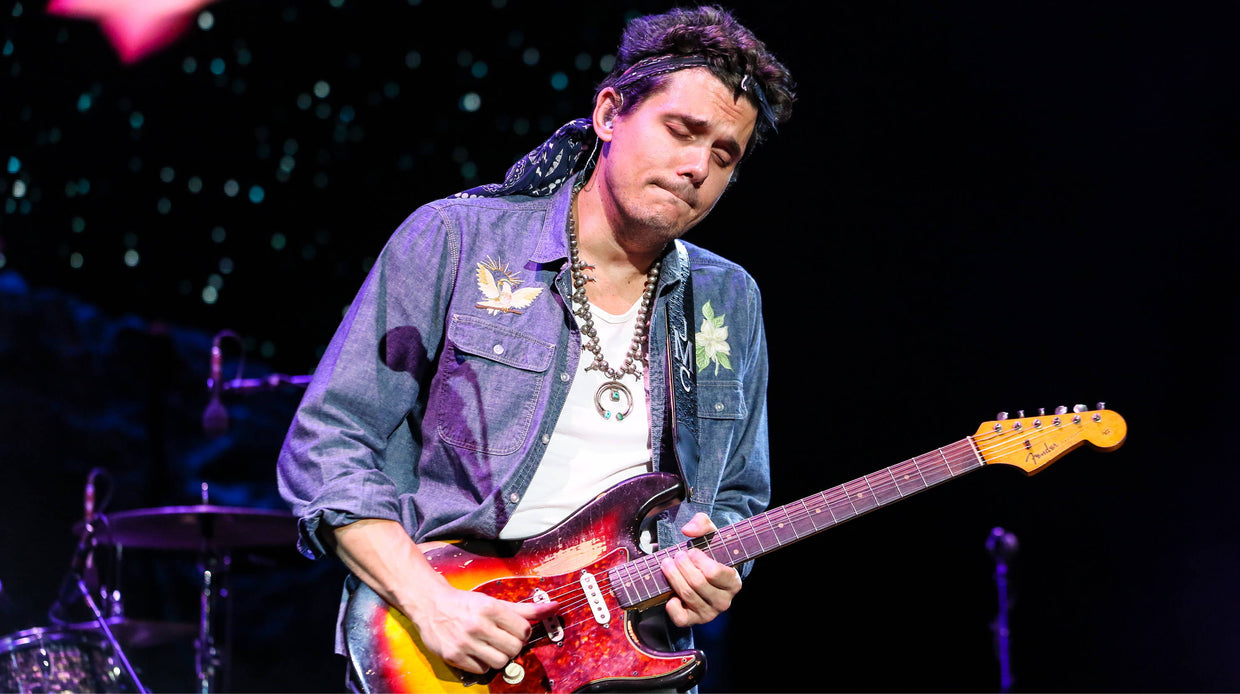 August 22, 2022By laura.whitmore@positivegrid.com BigCommerce 0 Comment
The Best Guitar Love Songs of All Time
By Brad Tolinski
Some would say the biggest reason we learn to play the guitar is to impress the ones we love, whether they know it or not. If that's true, then Valentine's Day is the perfect time to see if it actually works!
Just pull out your guitar and your Spark amplifier and strum the chords to any of the following songs on our list while staring deep into your sweetheart's eyes and see what happens. If they run screaming from the room, it probably wasn't meant to be. If they laugh uproariously, perhaps you'll need to practice more. But if they smile, just dim the lights, scootch a little closer...and play another tune on this list of romantic guitar songs.
Elvis Presley
"Can't Help Falling in Love"

Elvis Presely's "Can't Help Falling in Love" is undoubtedly one of the greatest love songs of all time, and has been remade many times because of its undeniable sentiment. Like a timeless folk tune, it's easy to play, easy to sing and works regardless of gender identity. With a little practice, you won't even have to look at your fretboard. Instead, you can focus all of your attention on that special someone you want to call your own.
Derek and the Dominos
"Layla"

Every once in awhile you need to break out the musical big guns to win over that person you've been eyeing. Eric Clapton drew lyrical inspiration for "Layla" from The Story of Layla and Majnun by the 12th-century Persian poet Nizami Ganjavi, in which a young man is driven to insanity by his love for a beautiful woman whom he cannot marry. He saw a parallel between this story and his own unreturned feelings for Pattie Boyd, then-wife of his close friend George Harrison, and penned this modern day song of love and anguish to show how serious he was about her.
The song was initially supposed to be a ballad, until Derek and the Dominos/Allman Brothers guitarist Duane Allman composed the now-legendary guitar riff and cemented this tune in rock history. Clapton and Boyd would later marry in 1979, and we have a hunkering that this song may have played a role in that decision.
Let's get one thing straight, we won't judge you if you want to gloss over this tune's complex acoustic guitar intro and dive straight into the main riff. After all, there's a reason why Nancy Wilson is considered one of the greatest female guitarists of all time.
Heart's debut single is a tale of two lovers who stand by each other's side amidst all of the chaos that goes on in the world, a message that singer Ann Wilson still relates to today. "The song gave a lot of people hope, because they would look at the challenges and difficult things in their lives and think, 'The world is really screwed up but I have this person who loves me,' and that's what the song is really all about," she says. Given the tough year we all had in 2020, this one seems like a no-brainer.
John Mayer
"Your Body is a Wonderland"

John Mayer is the undisputed Heavyweight King of Smooth Moves, and this song will either get you lucky or get you...slapped. This hit is one of the best guitar love songs of the last 20 years, but it requires either supreme confidence or quick reflexes to perform—it all depends on whether your date takes issue with the tune's unambiguous message.
The '90s alternative rock scene is synonymous with lyrical themes of dread and despair, but leave it to Dave Grohl to pen one of the best love songs of all time amidst all of the negativity. "[Everlong] is about a girl that I'd fallen in love with and it was basically about being connected to someone so much, that not only do you love them physically and spiritually, but when you sing along with them you harmonize perfectly," says Grohl.
While the original version of this song is amazing in its own right, we feel that Dave's impromptu solo rendition from his 1998 Howard Stern appearance is a strong contender for one of the greatest acoustic guitar love songs of all time.
If you're a guitarist who enjoys a little challenge, "At Last," popularized by the immortal R&B giant Etta James, might be just the tune to spice up your Valentine's Day. With its multitude of bluesy chords it's a little harder to master, but it sure is sexy. If you are so inclined, we've included an instructional video. Hey, "At Last" might be a little tough to play, but who said love was easy?
Choosing one of the best guitar love songs from Led Zeppelin's discography is a lot like shooting fish from a barrel; no matter which album you pick, there's bound to be an ode to an unnamed lover placed somewhere in the tracklist. From the carnal cries of "Lemon Song" to the bluesy pleas of reconciliation in "Since I've Been Loving You," Jimmy Page and company made a career of turning feelings of lust into musical perfection.
However, in our opinion no Zep song invokes the spirit of Valentine's Day more than "Thank You" off of Led Zeppelin II. While it's not full of Page's signature stadium-pleasing riffage, this song is guaranteed to help you convey your most heartfelt feelings to that special someone in a much more eloquent way that you ever could.
AC/DC
"Let Me Put My Love Into You"

There are times for romance and there are times to be direct. We can't advise which is right for your Valentine's Day, but it's good to be prepared for both. "Let Me Put My Love Into You" isn't subtle, but it does tell your mate exactly how you feel. Who would've thought that AC/DC would write one of the best guitar love songs of all time? After all, love comes in all different shapes, colors and… sounds.
The Jimi Hendrix Experience
"Foxey Lady"

Speaking of love songs that are straight to the point, you just can't go wrong with Hendrix's "Foxey Lady." Its bombastic guitar riff paired with lyrics of lust and desire should make for a quick way to kick things off this Valentine's Day. Surprisingly enough, Jimi is on record stating that this is the only happy song he's ever written, and boy is it upbeat. With lyrics like "I wanna take you home; I won't do you no harm; You gotta be all mine, all mine; Ooh, foxy lady," playing this tune will send a direct message to your lover.
On "More Than Words," singer Gary Cherone wants his lover to do more than mutter the phrase "I love you." Guitarist Numo Bettencourt explained why: "People say 'I love you' so easily and so lightly that they think you can say that and fix everything, or you can say that and everything's okay. Sometimes you have to do more and you have to show it—there's other ways to say 'I love you'."
This song has quite a few chords and is a little more challenging than some of the other songs on this list, but as Nuno said, sometimes "you gotta do a little more" to show your honey how you really feel, like learning how to play "More Than Words," one of the greatest love songs of all time!
Final Thoughts: Best Guitar Love Songs
While we can't guarantee the success of playing these songs for that special someone this Valentine's Day, we can guarantee that you'll sound great in the process. Simply dial in to any of the tones mentioned on this list (and 10,000+ more!) on our Spark smart amp and app. Plus, this practice amp includes an array of incredible features, including Smart Jam, where Spark learns your style and feel to generate authentic bass and drums and to accompany you. Check out Spark and fall back in love with playing guitar!
---
Brad Tolinski is perhaps best known for his work as the editor-in-chief of Guitar World Magazine for 25 years. He is also the author of Light and Shade: Conversations with Jimmy Page (Crown); and Play It Loud: An Epic History of the Style, Sound and Revolution of the Electric Guitar (Doubleday), which was the basis for a 2019 guitar-focused exhibition at the Metropolitan Museum of Art in New York City. Most recently he edited the 50th Anniversary Commemorative Issue of CREEM magazine, and his latest book Eruption: Conversations with Eddie Van Halen (Hachette) will be coming out in October 2021.