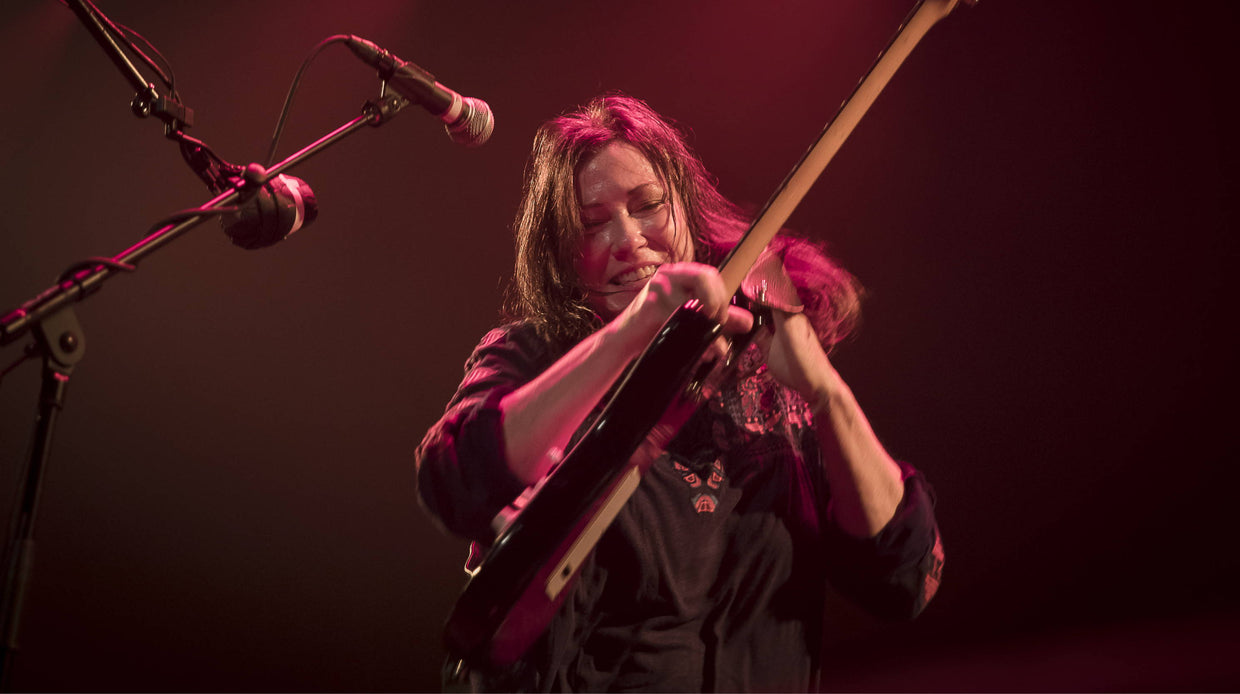 August 22, 2022By laura.whitmore@positivegrid.com BigCommerce 0 Comment
The Best Guitar Moments of '90s Female Alt Rock Bands
By Alexx Calise
In honor of Women's History Month, we're exploring 10 memorable guitar riffs, solos and live performances (in no particular order!) from some of the most iconic female guitarists of the '90s alt rock scene. So lace up your combat boots and dust off your flannel as we examine what made these '90s female bands as unforgettable as their girl power anthems.
Best Female Guitarists of the 90's: Riffs, Solos, and Live Performances
"Seether"
Veruca Salt (1995)

Though it was one of the group's more poppy numbers, Veruca Salt's "Seether" still embodies the punk rock spirit in this super raw, ultra-fast version of the tune at Glastonbury in 1995. A barefoot Louise Post rips a delightfully sloppy guitar solo with aplomb, going into an almost Zen-like trance amidst the bedlam of the festival.
"Celebrity Skin"
Hole (1998)

"Oh, make me over" couldn't have been a more apropos opening line, as Hole's follow up to 1994's Live Through was a much more polished, much more glam look and sound for the band. There's no mistaking that 3-chord verse guitar riff as the infamous Courtney Love buffets her pink Strat and opines her love-hate relationship with Hollywood.
"Bitch"
Meredith Brooks (1997)

Unless you were living under a rock in 1997, you may have heard Meredith Brooks' uber-catchy, fun-loving anthem, "Bitch." It took a little massaging from Brooks and co-writer Shelly Peiken to get Capitol to pitch it to radio with its borderline "salacious" title (although it seems a bit tame by today's standards), but the spunky, raven-haired chanteuse's tongue-in-cheek commentary on the complexities of womanhood grabbed on to terrestrial radio and just wouldn't let go. In the spirit of the song, Brooks opts for a singable guitar solo that shows that she's just as tough as she is tender.
"This is Love"
PJ Harvey (2001)

Though this one came out in the early 2000s (hey, it still counts), this Grammy-winning, sultry-voiced nineties icon demands your attention in this pitch-perfect performance on The Tonight Show. Harvey declares "this is love" with an arresting, articulate vocal and unwavering power stance. She keeps it simple chord-wise throughout the verses, proving that much like that daring white fringe jacket, less is definitely more.
"Rebel Girl"
Bikini Kill (1993)

Nothing screams female empowerment quite like this one from the reigning queens of the riot grrrl movement. "Rebel Girl," which was produced by the legendary, and one of the best female rock guitarists, Joan Jett (who also plays guitar and sings background vocals on the tune) is an unapologetic "tribute to, and love song for, another woman." With its crunchy main guitar riff, chanty vocals, and stripped-down, garage-style production, this is about as punk rock as it gets.
"Connection"
Elastica (1995)

For their network TV debut on The Late Show with David Letterman, Brit-poppers Elastica had absolutely no problem establishing a "connection" with the audience. Lead singer Justine Elinor Frischmann proves just how solid of a rhythm guitar player she is as she jams the unforgettable 3-chord verse with conviction and grace. Though there was some controversy back in the day surrounding the intro synthesizer line (which was later repeated as the main guitar line), it's still a banger that's made its way into films as recent as 2019's Captain Marvel.
"Zombie"
The Cranberries (1994)

With its sing-songy chorus, hauntingly beautiful vocal and visually stunning music video, it's no wonder this protest song about the 1993 Warrington bombings has become one of the most celebrated of the alt rock era. Though it's grungy in its roots, singer Dolores O'Riordan brings order to the chaos with her inimitable, soaring voice and unornamented guitar chord choices. Though O'Riordan is no longer with us, her trademark yodel and lilting vocal has cemented The Cranberries as one of the most unique rock bands of their time.
You can sense a sort of impending doom the moment guitarist Fallon Bowman starts plucking the ominous intro to this breakout single from Canadian all-girl rock band, Kittie. Once a hymn for every pierced, misunderstood, Manic Panic-loving teenage girl who ever had her heart broken, this track cuts to the quick with its devastatingly heavy main guitar riff and seething, rapid-fire chorus.
"Cannonball"
The Breeders (1993)

This intro is possibly one of the best and most recognizable of all the nineties female-fronted alternative rock bands, with its unmistakable bass line and "Ah-OOOH-gahs." It's Kelley Deal's recurring back-and-forth lead line throughout that fuses itself in your brain, and helped to make it a mainstay on alt rock radio since it first appeared in 1993.
"Mother, Mother"
Tracy Bonham (1996)

If the title doesn't ring a bell at first, you'll definitely remember her insistence that "everything's fiiiine!" (even though it's clearly not). The decidedly uncomplicated descending-then-ascending guitar rhythm perfectly pads Bonham's torchy vocals, leaving enough room for the tune to explode into an eventual frenzy. This one still rocks like a mother!
Final Thoughts: Best Female Guitarist Moments of the '90s

If you want to play just like your favorite grunge-era girl guitarist (as well as access over 10,000 other tones), try our award-winning Spark guitar amp on for size. Built with intelligent technology, this practice amp is packed with features such as Smart Jam, which gets a feel for your playing style and generates a whole backing band for you. It'll also display auto chords if you're trying to learn a new (or, in this case old) tune, and display guitar chords in real time as you play. How cool is that? Find out more.
---
Alexx Calise is an accomplished singer, guitarist, and songwriter. In addition to her musical pursuits, she also works in public relations and marketing, writes for a variety of publications, and hosts/creates content for Guitar World. More information about Alexx can be found at alexxcalise.net.