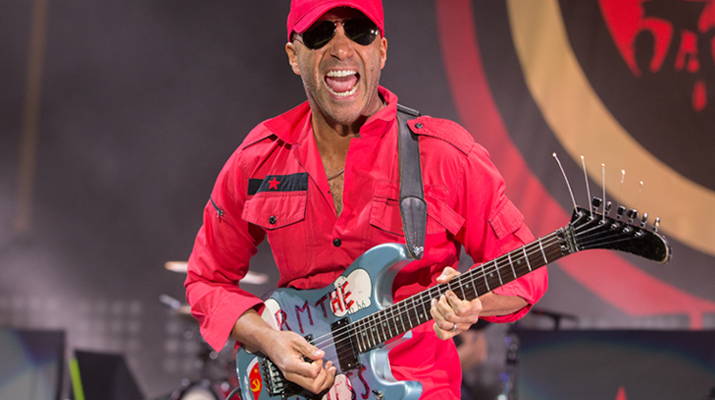 August 22, 2022By tom.gilbert@positivegrid.com BigCommerce 0 Comment
The 10 Most Iconic Guitar Riffs of All Time
By Brad Tolinski
In honor of our award-winning Spark amp, we thought we'd get you in the guitar-playing mood by presenting a handful of our favorite riffs for your listening pleasure. These are the riffs that get our fingers itchy to jam every time we hear them! It's also our crafty way to inspire you to check out the innovative Spark guitar amp. With access to over 10,000 tones, you'll sound great whether you're jamming along to Hendrix, Nirvana, Led Zeppelin, or any of the killer guitar riffs we've included in this countdown.
Best Guitar Riffs of All Time
Below you'll find the full list of the most iconic guitar riffs of all time, each complete with a performance video. We've also created official tones to correspond with each one, allowing you to replicate the sound of the original recording. If you're a Spark user, you can download them all in ToneCloud today. Now, let the countdown begin!
10. Rage Against the Machine: "Killing in the Name"
While most of the songs on our countdown list have one (or maybe two) incredible guitar riffs, "Killing in the Name" by Rage Against the Machine has an astounding three whoppers. There's the angular series of notes that kicks off the song at 0:17, and then guitarist Tom Morello clobbers you with another 0:41. If that wasn't enough, Morello delivers another dazzling riff at 1:17. Anyone these gigantically funky licks would've made our Top 10, but delivering three in one song is what makes "Killing in the Name" really something special.
Find this tone in ToneCloud:
"Killing in the Name" by Positive Grid
9. The Rolling Stones: "(I Can't Get No) Satisfaction"
Released way back in August of 1965, "(I Can't Get No) Satisfaction" by the Rolling Stones still has one of the heaviest and menacing riffs ever written. If you're wondering how guitarist Keith Richards produced such a gnarly sound, he's using a Maestro FZ-1 Fuzz-Tone, one of the first—and greatest—fuzz distortions widely available on the market for electric guitars. Ironically, Richards didn't like the sound and envisioned redoing the track later with a horn section playing the riff instead of a guitar (if you think about it, his guitar part sounds similar to a baritone saxophone). The other Rolling Stones, as well as producer and manager Andrew Loog Oldham and sound engineer David Hassinger out-voted Richards to keep the guitar part, and we're eternally grateful they did.
Find this tone in ToneCloud:
"(I Can't Get No) Satisfaction" by Positive Grid
8. Jimi Hendrix: "Purple Haze"
The distorted, dissonant guitar riff that kicks off "Purple Haze" is one of the most famous—and strangest—licks in rock and roll history. Played through a Fuzz Face distortion unit, the intro consists of an ominous tritone interval, also known as a diminished fifth chord. Historically, this dissonant chord has been referred to as diabolus in musica (literally "devil in music") and was forbidden to be played in the Middle Ages by the Catholic Church, because "to play it was like ringing Satan's doorbell." Jimi Hendrix, however, had little interest in calling on the devil. The "purple haze" in his head was nothing more than a bit of girl trouble.
Find this tone in ToneCloud:
"Purple Haze" by Positive Grid
7. Black Sabbath "Iron Man"
When Black Sabbath singer Ozzy Osbourne heard guitarist Tony Iommi play this riff for the first time, he remarked, "It sounds like big iron bloke walking around." Thank goodness the band later decided that "Iron Man" sounded infinitely better than calling the song "Iron Bloke." Played exclusively with simple power chord shapes, it's one of the first songs many budding metal players learn first, but that doesn't make the riff any less good or powerful. In fact, no less than Metallica's James Hetfield declared Iommi as "the king of the heavy metal riff." For the recording, the Black Sabbath guitarist used a 1965 Gibson SG Special and a modified Dallas-Arbiter Rangemaster treble booster through a 100-watt Laney Supergroup MK1 head with a Laney 4x12 cabinet.
Find this tone in ToneCloud:
"Iron Man" by Positive Grid
6. Nirvana "Smells Like Teen Spirit"
Ranked ninth on Rolling Stone's list of The 500 Greatest Songs of All Time (yes, that is waaaay up there), Nirvana's "Smells Like Teen Spirit" is also one of the most fun and easiest riffs to play on our list. When guitarist Kurt Cobain presented the song to his bandmates, bassist Krist Novoselic dismissed it as "ridiculous." In response, Cobain made the band play the riff for an hour and a half—it might've been simple, but Kurt knew he was on to something. The band recorded the basic track in just three takes, and used the second take. In 1994, shortly before Cobain tragically ended his own life, he said, "I still like playing 'Teen Sprit,' but it's almost an embarrassment to play it. Everyone has focused on that song so much."
Find this tone in ToneCloud:
"Smells Like Teen Spirit" by Positive Grid
5. Led Zeppelin: "Whole Lotta Love"
Written in 1968 on his houseboat on the River Thames at Pangbourne, Berkshire, England, this iconic Jimmy Page guitar riff is the foundation of arguably Led Zeppelin's greatest song. "I suppose my early love for big intros by rockabilly guitarists was an inspiration," Page told Business Insider magazine, "but as soon as I developed the riff, I knew it was strong enough to drive the entire song, not just open it. When I played the riff for the band in my living room several weeks later during rehearsals for our second album, the excitement was immediate and collective. We felt the riff was addictive, like a forbidden thing." Played on Page's '59 Gibson Les Paul, the riff is certainly addictive, but thank god it isn't forbidden, or else we wouldn't be able to include it on this list!
Find this tone in ToneCloud:
"Whole Lotta Love" by Positive Grid
4. The Beatles: "Day Tripper"
The Beatles weren't particularly known for writing classic guitar riffs, but when they did, they were almost always terrific—"I Feel Fine," "Birthday" or "I Want You (She's So Heavy)" anyone? However, of all their riff rockers, "Day Tripper" is our favorite. Written by John Lennon and played in the studio by George Harrison on his 1961 Sonic Blue Fender Stratocaster, the lick was most likely inspired by Motown hits like the Temptations' "My Girl" or Barrett Strong's "Money" (although one could argue that "Day Tripper" bears a resemblance to Roy Orbison's rockabilly classic "Oh, Pretty Woman"). Regardless, this song is a beaut and is one of the toppermost poppermost of riffs we like to play.
Find this tone in ToneCloud:
"Day Tripper" by Positive Grid
3. Metallica: "Enter Sandman"
Up until their fifth album, Metallica (aka "The Black Album"), most of the band's songwriting was done by singer/guitarist James Hetfield and drummer Lars Ulrich. However, one day lead guitarist Kirk Hammett came in a with riff that was just too damn good to ignore. Initially, Hetfield was worried that Hammett's sinister riff sounded perhaps too "commercial," so to counterbalance the vibe, he wrote lyrics about "destroying the perfect family." If the singer was trying make the "Enter Sandman" sound less catchy, it didn't really work—the song went on to sell more than a million copies on an album that eventually sold more than 30 million copies. It only goes to show, you can't keep a good riff down.
Find this tone in ToneCloud:
"Enter Sandman" by Positive Grid
2. AC/DC: "Back in Black"
The British music magazine Metal Hammer once opined: "There are rock songs that appeal to metal fans. And there are metal songs that appeal to rock fans. Then there is 'Back in Black'—a rock song and metal song that appeals to everybody, from dads to dudes, to little old ladies beating noisy kids over the heads with their canes—and it all hangs on that monumental, no-nonsense, three-chord monster of a riff." There's not much more we can add to that, other than to tip our hats to lead guitarist Angus Young and his brother, rhythm guitarist Malcolm, for coming up with this Mona Lisa of metal licks.
Find this tone in ToneCloud:
"Back in Black" by Positive Grid
1. Chuck Berry: "Johnny B. Goode"
This is where it all began. The song's opening riff is a clarion call—perhaps the greatest intro in rock and roll history. It was played in 1958 by Chuck Berry on an electric Gibson ES-350T, and it indeed sounded "just like a-ringin' a bell." "Johnny B. Goode" was a song that thrilled and exhilarated audiences both black and white. It became a massive crossover hit, peaking at #2 on Billboard magazine's Hot R&B Sides chart and #8 on the Billboard Hot 100. To teenage ears, Chuck's explosive electric guitar signaled the dawn of a new era music. An era that would be defined by the sound of an electric guitar playing rock and roll.
Find this tone in ToneCloud:
"Johnny B. Goode" by Positive Grid
Get Spark: The smart way to practice the best guitar riffs of all time

Whether you're a beginner or a pro, many of these countdown riffs should be within your grasp, and they'll sound even better and more authentic when you play them through Positive Grid's Spark amp.
Spark is the smart amp and app that jam along with you using intelligent technology. Play and practice with millions of songs and access over 10,000 tones powered by our award-winning BIAS tone engine. And then write a few legendary riffs of your own!
---
Brad Tolinski is perhaps best known for his work as the editor-in-chief of Guitar World Magazine for 25 years. He is also the author of Light and Shade: Conversations with Jimmy Page (Crown); and Play It Loud: An Epic History of the Style, Sound and Revolution of the Electric Guitar (Doubleday), which was the basis for a 2019 guitar-focused exhibition at the Metropolitan Museum of Art in New York City. Most recently he edited the 50th Anniversary Commemorative Issue of CREEM magazine, and his latest book Eruption: Conversations with Eddie Van Halen (Hachette) will be coming out in October 2021.