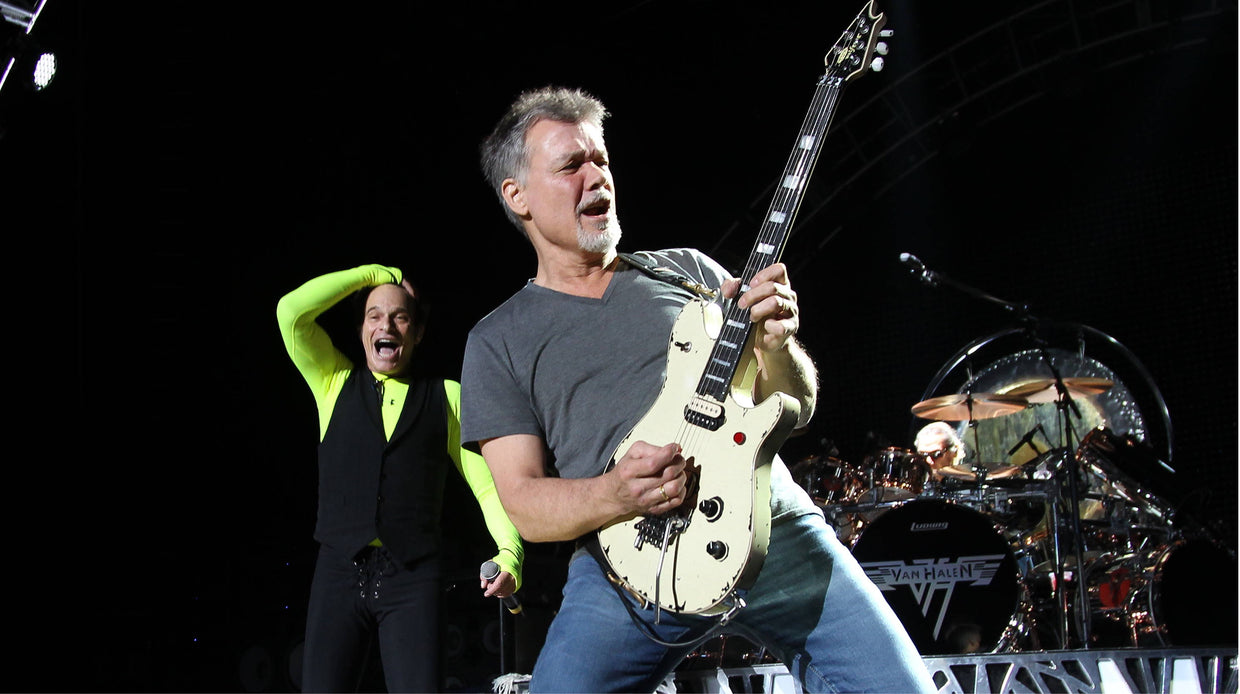 August 22, 2022By tom.gilbert@positivegrid.com BigCommerce 0 Comment
The 10 Best Guitar Solos of All Time
By Brad Tolinski
You can debate the 10 best guitar solos of all time until the end of time, but some of the classics are not up for debate. The following guitar solos (listed in no particular order) have stood the test of time, and will no doubt serve as the shredding rites of passage for anyone who wants to claim they are truly masters of the electric guitar for years to come.
Looking to recreate these famous leads with your Spark amp? We've also identified spot-on tones available in the Positive Grid ToneCloud allowing you to do just that. Check them out listed below.
Now with that out of the way, let's dig in!
"Crossroads"
Soloist: Eric Clapton
Cream, Wheels of Fire (1968)
For over five decades Eric Clapton's solos on "Crossroads" have been the bar by which all others are measured. Don't believe us? No less than Edward Van Halen felt compelled to learn the entire song note-for-note (hear both Eric's and Eddie's versions on the above links).
Clapton, however, was amused by all the adulation. "It's so funny, this," he told Guitar World magazine. "I've always had that held up as like, 'This is one of the great landmarks of guitar playing.' But most of that solo is on the wrong beat. Instead of playing on the two and the four, I'm playing on the one and the three and thinking, 'That's the off beat.' No wonder people think it's so good—because it's all wrong!"
Find it on ToneCloud: "cream eric clapton" by Anthony Wilson
FIND
"Eruption"
Soloist: Edward Van Halen
Van Halen, Van Halen (1978)
Speaking of Van Halen, he made a little history of his own ten years after the release of "Crossroads" with his legendary solo guitar piece "Eruption." Performed spontaneously on Van Halen's 1978 debut album, it revolutionized guitar playing with its use of tapping and extreme whammy bar dives, making it an essential part of our best guitar solos of all time list.
"I played it two times for the record, and we kept the one that seemed to flow," Edward explained in a 1990 interview. "[Producer Ted Templeman] liked it, and everyone else agreed that we should throw it on the album. I didn't even play it right—there's a mistake at the top end of it. Whenever I hear it, I always think, 'Man, I could've played it better.'"
As for the distinctive echo effect on the track, Eddie recalls that he used a relatively obscure unit—a Univox echo chamber. "It had a miniature 8-track cassette in it, and the way it would adjust the rate of repeat was by the speed of the motor, not by tape heads. So, if you recorded something on tape, the faster you played the motor back, the faster it would repeat and vice versa. I liked some of the noises I got out of it, but its motor would always burn out."
In one of the understatements of the century, Edward humbly added, "I like the way 'Eruption' sounds. I'd never heard a guitar sound like that before." Neither have we.
Find it on ToneCloud: "Eruption" by Rocco Di Filippo
"Voodoo Chile (Slight Return)"
Soloist: Jimi Hendrix
Jimi Hendrix Experience, Electric Ladyland (1968)
No list of best guitar solo songs would be complete without at least one Jimi Hendrix number, given he is frequently ranked as one of the 100 greatest guitarists of all time...but which one? We chose "Voodoo Chile (Slight Return)" from the album Electric Ladyland because it features the riff that has launched a million jam sessions and solos (although it could be argued no one has played the song better than Jimi).
It should be no surprise that the song itself was actually edited from a loose improvised jam. Jimi Hendrix's publicist, Michael Goldstein, had successfully arranged for ABC-TV to produce a short news feature based primarily on the Experience's triumphant success in America. Filming began on May 3, 1968, with 16mm cameras capturing the recording of "Voodoo Chile (Slight Return)," which, like many Hendrix songs, borrowed both musical and lyrical themes from Muddy Waters and other Delta bluesmen.
"'Voodoo Chile' was something Jimi brought in, and we learned that song right on the spot in front of the cameras," recalls bassist Noel Redding. "We ran through it about three times, and that was it."
It is not known whether ABC ever used any of the footage. And, unfortunately, all the camera originals were stolen from ABC's archives sometime after Jimi's death.
Engineer Eddie Kramer recalls: "'Voodoo Chile (Slight Return)' was recorded the day after Jimi tracked "Voodoo Chile," the extended jam on Electric Ladyland featuring Traffic's Stevie Winwood on organ and Jefferson Airplane bassist Jack Casady. Basically, Jimi used the same setup—his Strat through a nice, warm Fender Bassman amp. Jimi's sound on both tracks is remarkably consistent, leading some to think they were recorded at the same session."
Find it on ToneCloud: "Voodoo Child" by Anton Ivanov
"Black Star"
Soloist: Yngwie Malmsteen
Yngwie Malmsteen, Rising Force (1984)
Most modern shredding descends directly from Yngwie Malmsteen's groundbreaking 1984 album Rising Force. "Black Star" showcases many of the neo-classical licks and phenomenal picking technique that has made Malmsteen among the most revered players in rock history. Starting with a gentle nylon string overture, the song then explodes into a flurry of lightning fast runs that demonstrate why it deserves to be among the best guitar solo songs of all time.
"I've been playing that song, or variations of it, since I was a teenager in Sweden," Yngwie Malmsteen told his fan club. "I used to play really long, uninterrupted improvisations when I played local shows in Stockholm back then, and it developed from that. I didn't sit down and actually write out the notes for it; when I'm feeling inspired, the music just flows out of me. It's in my head and my ears and flows out of my fingers."
Find it on ToneCloud: "Yngwie Malmsteen" by Jun Young Song
"Stairway to Heaven"
Soloist: Jimmy Page
Led Zeppelin, Led Zeppelin IV (1972)

You may be a little sick of "Stairway to Heaven," but the solo is undeniably a thing of tremendous beauty.
"I winged it," said Led Zeppelin guitarist Jimmy Page with a touch of pride. "I had prepared the overall structure of the guitar parts, but not the actual notes. When it came time to record the solo I warmed up and recorded three of them, they were all quite different from each other. All three are still on the master tape, but the one we used was the best solo, I can tell you that."
Find it on ToneCloud: "Led Zeppelin - Stairway To Heaven - solo" by Eli Gonzaga de Abreu
"Crazy Train"
Soloist: Randy Rhoads
Ozzy Osbourne, Blizzard of Ozz (1981)

Everybody knows the iconic opening riff to Ozzy Osbourne's "Crazy Train," but the song also has a humdinger of a guitar break. Performed by the late, great classically trained shredder Randy Rhoads, the solo was recorded in a two-part process. First, Randy would take his guitar to a stone room downstairs at England's Ridge Farm Studios where he would work out his solos.
"This was after we did the backing tracks," says Blizzard of Ozz engineer Max Norman. "Randy had a Marshall and a couple of 4x12s, and we had him set up in this room with the cabinets facing up out into the main studio. They were miked at various points: close, at three feet, and again at about 12 feet. I would make Randy a loop of the solo section and we'd just let that play into these big monitors downstairs, where he would just sit and jam away for hours and hours until he had composed his completed solo."
With the solos arranged to his liking, Rhoads would then report upstairs to the control room to record them. "We'd plug the guitar directly into the console," recalls Norman. "We'd preamp it in the console and send it down to the amp from there. That way we could control the amount of gain that hit the amp."
Find it on ToneCloud: "Crazy Train" by Bryan Nelson
"Comfortably Numb"
Soloist: David Gilmour
Pink Floyd, The Wall (1979)

Not all solos have to be fast to be great. While Pink Floyd guitarist David Gilmour can burn with the best of them, his strength is in creating great melodies and solos you can hum. Nowhere is this more evident that the two soaring guitar breaks in the classic "Comfortably Numb."
Gilmour's solo was cut using a combination of the guitarist's Hiwatt amps and Yamaha rotating speaker cabinets, producer Bob Ezrin recalls. But with Gilmour, he adds, equipment is secondary to touch; "You can give him a ukulele and he'll make it sound like a Stradivarius."
Which doesn't mean Gilmour didn't fiddle around in the studio when he laid down the song's unforgettable lead guitar part. "I banged out five or six solos," Gilmour told Guitar World magazine. "From there I just followed my usual procedure, which is to listen back to each solo and make a chart, noting which bits are good. Then, by following the chart, I create one great composite solo by whipping one fader up, then another fader, jumping from phrase to phrase until everything flows together. That's the way we did it on 'Comfortably Numb.'"
Find it on ToneCloud: "Pink Floyd - Comfortably Numb (solo 2)" by Pawel Wiedro
"One"
Soloist: Kirk Hammett
Metallica, ...And Justice for All (1988)

Most guitar players are faced with the task of coming up with one great solo, but on Metallica's Grammy-winning "One" from their album ...And Justice for All, guitarist Kirk Hammett was asked to create three memorable leads, and all them had to be different to fit the complex mood shifts of the song.
"The first solo and the last solo were completely worked out in advance because I had been playing them for months," recalled Hammett. "So in those cases it was just a matter of fitting in tone-wise. I elected to use a clean sound in the intro solo, which was the first time we used that kind of sound. I dialed it up on an ADA preamp and, once we found the right sound, it just flowed. For the final solo, I used my conventional lead sound of the time. That one flowed quickly, too—once I worked out the intro right-hand tapping technique, a process I really enjoyed. I wanted a high energy intro that would be different from anything I had done in the past. So I got those two solos done quickly and was pleased with them. But the middle one just wasn't happening."
Ultimately, Hammett was so displeased with the results of his second solo that he returned to the studio in the midst of a tour—spending a day at New York's Hit Factory with producer Ed Stasium. "I redid the entire second half of the second solo and worked to make it all fit in," Hammett recalls. "It was better, though I was never totally satisfied with it. I guess I did a good enough job, though."
Find it on ToneCloud: "METALLICA AJFA" by luivan santos
"Free Bird"
Soloist: Allen Collins
Lynyrd Skynyrd, Lynyrd Skynyrd (Pronounced 'Lĕh-'nérd 'Skin-'nérd) (1976)
Lynyrd Skynyrd had three red-hot guitar players in the band, so everyone assumes the solos on their classic "Free Bird" must've featured all of them, but it's not so. The studio version of "Free Bird" is played entirely by Allen Collins on his Gibson Explorer, with Gary Rossington playing rhythm on his Les Paul and adding slide fills on his Gibson SG.
"The whole long jam was Allen himself," said Rossington. "He was bad. He was super bad! He was bad-to-the-bone bad. When we put the solo together, we like the sound of the two guitars, and I could've gone out and played it with him. But the way he was doin' it, he was just so hot! He just did it once and did the harmony and it was done."
Chances are you've heard the "Free Bird" solo more times than you can count, but you've never heard it like this (link above). Here is Collins' immortal guitar part isolated, so you can hear it bare naked in all of its outrageously smokin' glory.
Find it on ToneCloud: "Nitro's Lynyrd Skynyrd" by Mike Gray
"Cinnamon Girl"
Soloist: Neil Young
Neil Young, Everybody Knows this is Nowhere (1969)

Okay, now before you get all depressed and think, I'll never be able to play fast like Jimi Hendrix or Eddie Van Halen, it's important to remember that one well played note can be as effective as 50. "Cinnamon Girl" by Neil Young, an awesome classic rock song, is proof of that. Featuring one, enthusiastically picked note, Neil Young demonstrates it's not how fast you play, but what you play and how you play it. Is this one of the best guitar solos ever? You bet your sweet bippy it is.
Find it on ToneCloud: "Neil Young - Dead Man" by Max Sheer
Final Thoughts: Best Guitar Solos
If you're looking to replicate the sound of any of these phenomenal guitarists (plus 10,000 more tones!), take a look at our Spark amp. With intelligent technology that allows you access to thousands of incredible sounds, plus the Smart Jam feature that learns your style and feel to generate your own authentic bass-and-drum backing band, it's the only practice amp you'll ever need. Find out more.
---
Brad Tolinski is perhaps best known for his work as the editor-in-chief of Guitar World Magazine for 25 years. He is also the author of Light and Shade: Conversations with Jimmy Page (Crown); and Play It Loud: An Epic History of the Style, Sound and Revolution of the Electric Guitar (Doubleday), which was the basis for a 2019 guitar-focused exhibition at the Metropolitan Museum of Art in New York City. Most recently he edited the 50th Anniversary Commemorative Issue of CREEM magazine, and his latest book Eruption: Conversations with Eddie Van Halen (Hachette) will be coming out in October 2021.