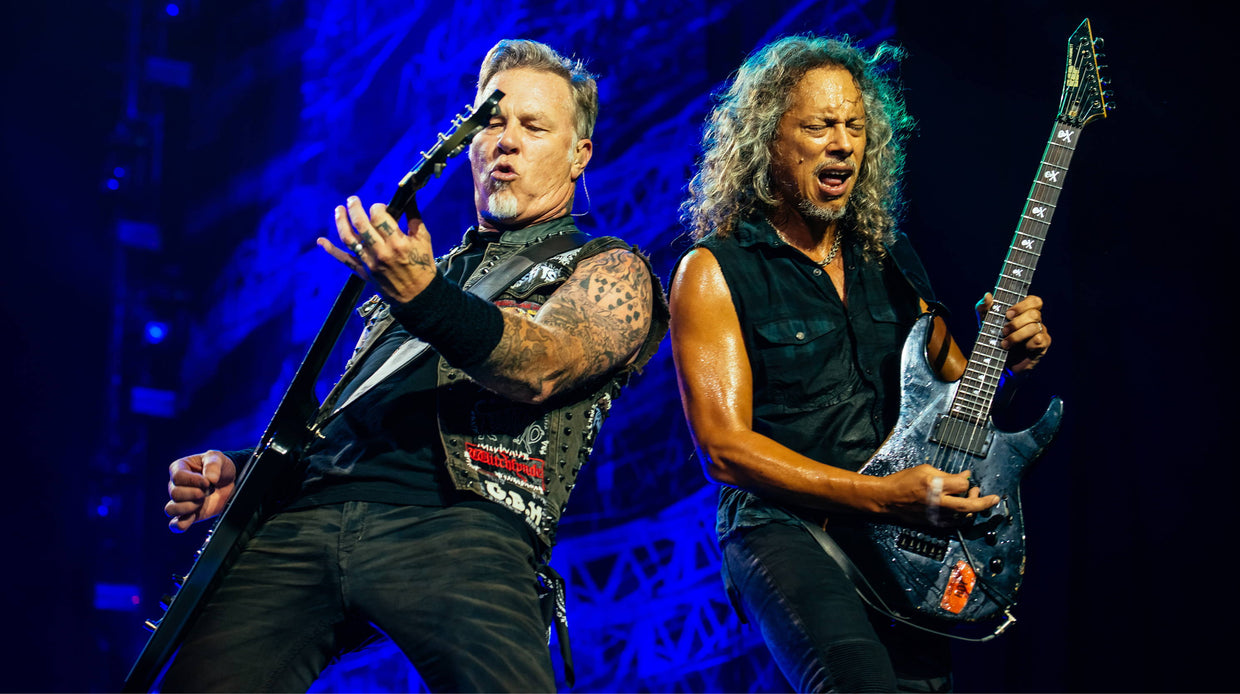 August 22, 2022By tom.gilbert@positivegrid.com BigCommerce 0 Comment
The 10 Best Guitar Tones of All Time
By Brad Tolinski
Guitar players are always on the hunt for the perfect tone. It's just part of who we are and what we do. Great guitar tone, however, can be an elusive beast because it's often the convergence of many things: a terrific amp, a cool guitar with the right pickups, effects that are dialed to perfection and, most important, just the right touch on the fretboard.
The following is a list of some of our favorite guitar tones with some information on how the players created them. Knowing that everybody has different tastes, we made a point to choose revolutionary tones from several different eras for you to explore. We encourage all to use these ideas as a springboard to discover your own distinctive sound. Finding your own sonic signature isn't always easy, but it sure can be fun.
Link Wray's Rockabilly Riot Guitar Tone
When the great Led Zeppelin guitarist Jimmy Page was asked who influenced his sound, he pointed to Link Wray and his menacing 1958 instrumental masterpiece, "Rumble" (see video). For those unfamiliar with this razor sharp slice of rockabilly, it was one of the first records to feature power chords, distortion and feedback. "Rumble" (slang for "street fight") has blown the minds of guitarists for over six decades and probably will for another six. But if you are wondering how ol' Link achieved such a gnarly guitar tone years before the first fuzz box was invented, the truth is stranger than fiction. Like any 1950s hooligan—he jabbed holes into the speaker of his guitar amp with a switchblade knife until it made the distorted sounds heard on his groundbreaking record.
Eric Clapton's God-Like Thunder Guitar Tone
In 1966, Eric Clapton went in the studio with John Mayall and the Bluesbreakers and did something no other guitarist had done before. He pulled out his newly acquired '60 Gibson Les Paul with two PAF humbucking pickups, plugged it into a 35-watt Marshall combo amp, cranked it up all the way and let loose with a gigantic sound that sent shock waves through the rock world. His incredible tone, captured in its full glory on the Blues Breakers with Eric Clapton album, influenced future guitar superstars like Jimi Hendrix, Stevie Ray Vaughan and Duane Allman who followed his example by also turning their amps up to 10 in the studio. Shortly after the release of the record, fans started calling Clapton "god" and it's no wonder—on songs like "Steppin' Out" (see video), he sounded like one.
Jimi Hendrix's Voodoo Magic Guitar Tone
The great guitar guru Joe Satriani called "Voodoo Chile (Slight Return)" by Jimi Hendrix "the greatest piece of electric guitar work ever recorded. In fact, the whole song could be considered the holy grail of guitar expression and technique." Jimi's famous guitar tone came from a Fender Stratocaster through a Vox wah-wah, a Fuzz Face distortion pedal and a 100-watt Marshall...but also from his expressive string bending and one-of-a-kind vibrato.
Wes Montgomery's Smooth Moves Guitar Tone
Rock and blues musicians certainly don't have a monopoly on great guitar tones. In fact many jazz fans would argue that Wes Montgomery had the most beautiful electric guitar sound of any player before or since his death in 1968. Montgomery was known for an unusual technique of plucking the strings with the side of his thumb and his extensive use of octaves (both seen in detail on the accompanying video), which gave him a rich and distinctive sound. For most of his career he played a Gibson L5-CES through either a Standel solid-state or a Fender tube amp. But many of his jazz peers have said that he wasn't very picky about his guitar or mode of amplification, probably because no matter what he played he always sounded like a genius.
Malcolm Young's Rhythm and Bruise Guitar Tone
When it comes to great guitar tones, nobody—and we mean nobody—had a better rhythm guitar sound than AC/DC's late Malcolm Young. While his brother Angus Young is a more famous guitarist for his lead playing, it was Malcolm's rock-steady right hand, explosive chords and powerful crunch that really put the KAPOW! into songs like "Back in Black," "You Shook Me All Night Long" and "Highway to Hell." Those looking to imitate his guitar tone might be surprised by the tools of his trade because both his guitar and amp were, well...weird. Mal primarily used a '63 Gretsch Jet Firebird (or Gretsch White Falcon) through a Marshall 100-watt Super Bass amp. An odd combination, yes, but definitely effective. And if you're wondering what kind of pedals he used, there weren't any—he's always wanted his sound as pure and direct as possible.
Van Halen's Brown Sound Guitar Tone
In the Eighties (heck, even now), everyone wanted to sound like Edward Van Halen on songs like "Eruption" and "Atomic Punk." Ed called it his "brown sound," because his aim was to make his famous guitar tone like the color brown—big, rich and deep. To achieve this, he usually tuned his guitars down a half-step to Eb, which automatically makes any guitar sound a little bigger and thicker (both Stevie Ray Vaughan and Black Sabbath's Tony Iommi used this technique). Another element to his iconic guitar tone was using a humbucking pickup in the bridge position on a Fender-style guitar. And, finally, to give his notes some extra dimension, he would kick on an MXR Phase 90 phase shifter pedal during his solos—you can hear the effect throughout the accompanying video for "Eruption" (see video). If you're trying to add some extra texture to your sound, any one of those ideas will help get you there. But ultimately it's up to you to decide what shade of "brown" you want your tone to be.
Slash's Rose in a Fisted Glove Guitar Tone
While everybody loves "Welcome to the Jungle," "Paradise City" and "Sweet Child o' Mine" by Guns N' Roses, it's surprising how little credit Slash gets for how great his guitar sounds on those tracks. One of Slash's secret weapons in producing his killer tone was a very simple one: his pickup toggle switch. "Sweet Child o' Mine" (see video) is a perfect example on how with one flick of the switch he could change his guitar tone completely. In the first half of the song, Slash set his toggle to just his neck pickup to produce a sweet, violin-like beautiful guitar tone for the song's memorable opening riff and opening solo. But at the four-minute mark, he flips his toggle to his bridge pickup for the brilliantly piercing sound that matches the song's aggressive climax. Two completely different tones—both of them great—and both of them Slash.
Metallica's Heavyweight Crunch Guitar Tone
If you're playing in a band, chances are 90% of your time is spent playing chords [Read more: Easy Guitar Chords]. So while it's fun to work on your lead tone, it's just as important—if not more so—to make sure your rhythm sound is stellar, too. One guy who learned this lesson early in life was Metallica's amazing rhythm ace, James Hetfield. More than any lead player, it was the Mighty Het's slammin' rhythm tone that defined heavy metal for much of the last three or four decades.
One of our favorite guitar tones by James was on the song "Sad But But True" from Metallica's iconic Black Album (see video). At the core of the sound was his ability to rapidly down stroke all his rhythm hits, but Hetfield was also the master at composing numerous layers of tracks recorded through different amps, cabinets, mics and effects. His main amp on the session was a mid-Eighties Mesa/Boogie Mark IIC++, most likely with a pair of Aphex EQF-2 EQs and an Aphex CX-1 Compressor/Expander in the effects loop. The Mesa's five-band graphic EQ—in a scooped mid "V" configuration—also played a key role, but the Aphex EQs further sculpted the tone, particularly by cutting 1.2kHz. Further depth and texture was provided by overdubbing a Jerry Jones baritone tuned an octave lower than the guitar, while additional overdubs consisted solely of muted string "chuks" to enhance the percussiveness of the attack. A brilliantly complicated tone recipe for sure, but that's why Jaymz is on this list.
[Read More: Metallica Guitar Tone]
Avenged Sevenfold's Massive Attack Guitar Tone
One of the most popular new metal bands over the last decade has been Avenged Sevenfold, with Synyster Gates on lead guitar and Zacky Vengeance on rhythm. Tighter, leaner and more melodic than thrash bands from previous generations, the team of Gates and Vengeance have had a massive influence on current metal and emocore bands. While there are many elements to their multi-dimensional guitar sound, they share a few basic ingredients to create their cutting-edge guitar tones. The duo's strings are typically light top with heavy bottom (.010 - .052) played with a thick pick, and their guitars are generally down-tuned to drop D (D-A-D-G-B-E). Perhaps that doesn't sound like much information, but in many ways, the weight of your strings and pick, and how your guitar is tuned has as much influence on your tone as any amp. Change any one of those things and you'll hear a massive difference in your tone—picks and strings matter! As an experiment, try the above combination on your guitar, and see what happens.
Nita Strauss' Sonic Hurricane Guitar Tone
Since we started our list back in the 1950s with Link Wray and moved forward through time, it only seemed right to finish our list of best guitar tones by looking towards the future. Nita Strauss is a genuine student of classic master shredders like Steve Vai, Yngwie Malmsteen, Paul Gilbert and Avenged Sevenfold's Synyster Gates, but she is no prisoner of the past. On her amazing solo album, Controlled Chaos, the Alice Cooper guitarist recorded most of her parts direct-to-digital using a variety of software amplifiers. "I think there are two distinct paths to the quest for tone," she explained. "There's the analog route: 'How can I get the best tubes, the best cable and best pedals to put in front of the best amp?' Or you can just dial it all in on the digital side. I'm all about the latter." Yes, the future is here, and it belongs to Hurricane Nita Strauss.
Final Thoughts: Best Guitar Tones
Speaking of the future and digital amplifiers, if you want access to many of the above tones and 10,000 more (!), we urge you to check out our phenomenal Spark amp. With its intelligent technology that allows you access to thousands of incredible sounds, plus the Smart Jam feature that learns your style and feel to generate your own authentic bass-and-drum backing band, it's the only practice amp you'll ever need. Find out more.
---
Brad Tolinski is perhaps best known for his work as the editor-in-chief of Guitar World Magazine for 25 years. He is also the author of Light and Shade: Conversations with Jimmy Page (Crown); and Play It Loud: An Epic History of the Style, Sound and Revolution of the Electric Guitar (Doubleday), which was the basis for a 2019 guitar-focused exhibition at the Metropolitan Museum of Art in New York City. Most recently he edited the 50th Anniversary Commemorative Issue of CREEM magazine, and his latest book Eruption: Conversations with Eddie Van Halen (Hachette) will be coming out in October 2021.