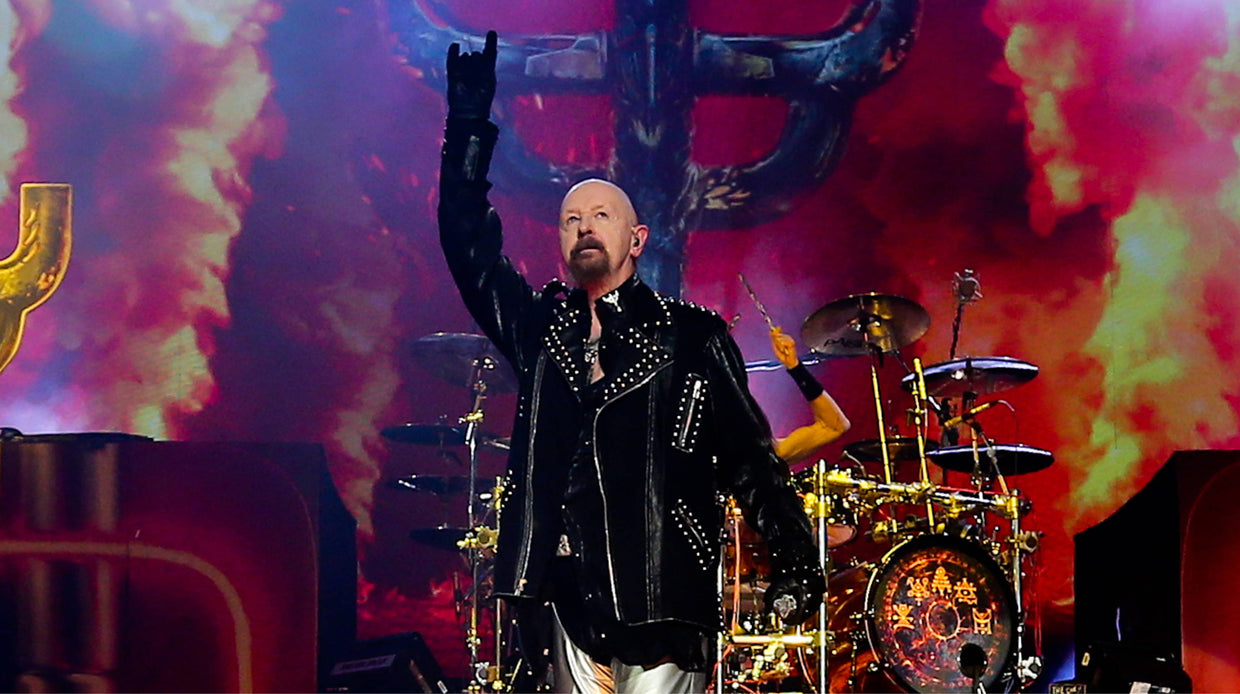 August 22, 2022By tom.gilbert@positivegrid.com BigCommerce 0 Comment
10 Guitar Songs to Blast During Pride Month
By Brian Caples
In honor of Pride Month, we scoured all corners of the rock world to create a Spotify playlist of badass guitar songs featuring LGBTQ+ musicians. Whether you're a metalhead, indie darling, or even an alt-country rocker, there's bound to be something in this Pride song list for you. Some of the choice cuts are listed below, but you can check out the full playlist here.
As always, this list is not ranked – all of these artists deserve your ear!
10 Guitar Songs to Blast During Pride Month
Judas Priest
"The Hellion/Electric Eye"

Okay, maybe we're cheating here since these are technically two songs, but this one-two punch off of 1982's Screaming for Vengeance works too well to separate. When performed live, Judas Priest lead singer and openly gay heavy metal titan Rob Halford has often paired these tracks with explosive pyrotechnics and the occasional on-stage Harley to create an atmosphere that is as extravagant and memorable as he is.
These days, Halford spends his time advocating for LGBTQ+ acceptance in rock and metal, preparing for the Judas Priest 50th anniversary tour and sharing his love of kittens with his millions of social media followers. In other words, he's still metal as hell.
What do you get when you throw Black Sabbath, The Melvins, Helmet, and an abundance of fuzz pedals into a blender? The sludgy sounds of Stoner Rock legends Torche, obviously!
As a young gay man in the '90s metal scene, lead singer and guitarist Steve Brooks often felt disappointed at the lack of LGBTQ+ representation. "None of the bands I listened to were gay. I didn't have anyone to look up to in the world of what I do or the type of music I admire," he says. This inspired him to be upfront about his sexuality and try to fill the role he desperately needed as a teen. "For those that are gay and alone and maybe in small towns and have heard of our band: we're here."
Mal Blum
"I Don't Want To"

Alternative comedy nerds may remember Mal Blum from their numerous guest appearances (musical and otherwise) on the cult late night TV show The Chris Gethard Show. However, if you didn't spend your weeknights watching NYC public access and Mal is not on your radar, then they absolutely should be.
Playing a style of indie punk that's equal parts X, Sleater-Kinney and Two Door Cinema Club, Mal is a staple in the modern transgender and non-binary music communities. "I Don't Want To" is just one stop on Mal's incredible musical journey, and we can't wait to see where that journey takes them.
Against Me!
"True Trans Soul Rebel"

It's impossible to talk about modern transgender icons without bringing up Against Me! frontwoman Laura Jane Grace. The band's 2014 fan-favorite album Transgender Dysphoria Blues deals heavily with Laura's transition process, from her lifelong gender dysphoria to coming out and beyond.
On "True Trans Soul Rebel," Laura pens the fear and self-doubt that she had to overcome while building up the courage to come out as trans to a global audience. This tune ended up becoming an anthem for LGBTQ+ punks everywhere, and has remained a staple in their live setlist.
Fun fact - fellow queer musician and longtime trans ally "Fat Mike" Burkett of NOFX fame plays bass on two songs from this album, the first of many collaborations between the two bands.
Angel Vivaldi
"A Mercurian Summer"

If there's one thing that you need to know about Angel Vivaldi, it's that he can shred. One of the most talked about guitarists of the modern era, Angel incorporates elements of prog metal, djent, and even classical into his epic instrumentals. On "A Mercurian Summer" (the title of which being a subtle nod to the second act of Antonio Vivaldi's "The Four Seasons"), listeners are taken on a wild guitar journey that almost mimics the original piece.
As a prominent gay figure in the guitar community, Angel has used his platform to give LGBTQ+ artists a voice in rock and metal. He is also well known for his philanthropy, such as hosting a six-hour-long livestream to benefit the families of those killed and injured in the 2016 Pulse nightclub shooting. So yes, not only is Angel a top-tier musician, he's also an all around good person.
Orville Peck ft. Shania Twain
"Legends Never Die"

Orville Peck is a polarizing figure in the country world, to say the very least. However you feel about the masked guitarist, there's no denying that his musicianship and charming on-and-off-stage persona has helped introduce a whole new generation of fans to the genre.
Peck, who has been out as a gay man for his entire career, has created a decent amount of Pride music during his relatively short run, including a cover of Bronski Beat's "Smalltown Boy" for the Pride edition of Spotify's Single Series and a guest spot on Trixie Mattel's Full Coverage, Vol 1 EP. While not necessarily a song for Pride, "Legends Never Die" does feature the iconic Shania Twain, meaning it's a certified jam.
Let's take a trip back to the early 2000's, where the combination of a quickly-stagnating Britpop scene, an overabundance of nü metal bands, and, most importantly, the release of This is It by The Strokes gave birth to a whole new breed of garage-friendly and ultra-cool alternative music. Bloc Party's 2004 breakthrough single "Helicopter" is often regarded as one of the key songs in this movement, mostly due to killer guitar work from both Kele Okereke and Russell Lissack.
These days, Kele is more focused on creating less intense music (including "Streets Been Talkin," which documents the struggles that gay couples often face while adopting), but we can always rely on "Helicopter" to bring some energy to our Pride song list.
Doll Skin has come a long way since bursting on the alternative scene in 2013. In just 3 years, they went from winning their local battle of the bands to releasing a massively successful EP and touring with such legendary acts as the Dead Kennedys. "Mark My Words" is the band's first single after signing to the iconic Hopeless Records in 2019, signifying a new chapter in the band's career.
Although Doll Skin is now a two piece, that hasn't stopped them from rocking just as hard as before. Nonbinary lead vocalist/rhythm guitarist Syd Dolezal and drummer/backing vocalist Meghan Herring have big plans for the future, so you better keep a close eye on them.
Vicki Genfan
"Atomic Reshuffle"

We're including the live version of Vicki Genfan's "Atomic Reshuffle" here because it's something that needs to be seen to be believed. Vicki's insanely unique approach to playing guitar involves 29 alternate tunings and a percussive technique that she calls "slap-tap," with the end result being a performance that is as visual as it is aural.
While not Pride music in the traditional sense, Vicki's pure innovation in the guitar universe and openness about being a gay musician has encouraged other fellow LGBTQ+ musicians to put themselves out there and create their own strange sounds.
We're going to be completely honest here, it took us a long time to decide which Green Day track to include in our Pride song list. Lead singer and guitarist Billie Joe Armstrong first came out as bisexual back in 1995, which helped us narrow our pick down to something off of 1994's Dookie. There's only one problem - how the hell do you choose just one song off of Dookie?
In the end, we went with the fittingly titled "In The End," a bit of a deep cut that's placed towards the album's finish line. A cut so deep, in fact, that it was first played live in 1992 and not played again until 2013. We hope that you play this one on repeat to make up for lost time.
Final Thoughts: 10 Guitar Songs to Blast During Pride Month
There you have it, 10 guitar songs that you can crank all the way up to 11 during Pride Month. We hope that at the very least, this list helped showcase some LGBTQ+ visibility from within the rock community.
Check out our official Pride Month playlist below for more tunes, and be sure to follow us on Spotify to be the first to know about future playlists.
---
Brian Caples is Positive Grid's Marketing Coordinator and a lifelong music obsessive. When not on the clock, his favorite hobby is torturing loved ones with useless trivia about obscure punk and metal bands. His work has appeared in The Women's International Music Network, Mandolin Cafe, ArtistWorks and more.