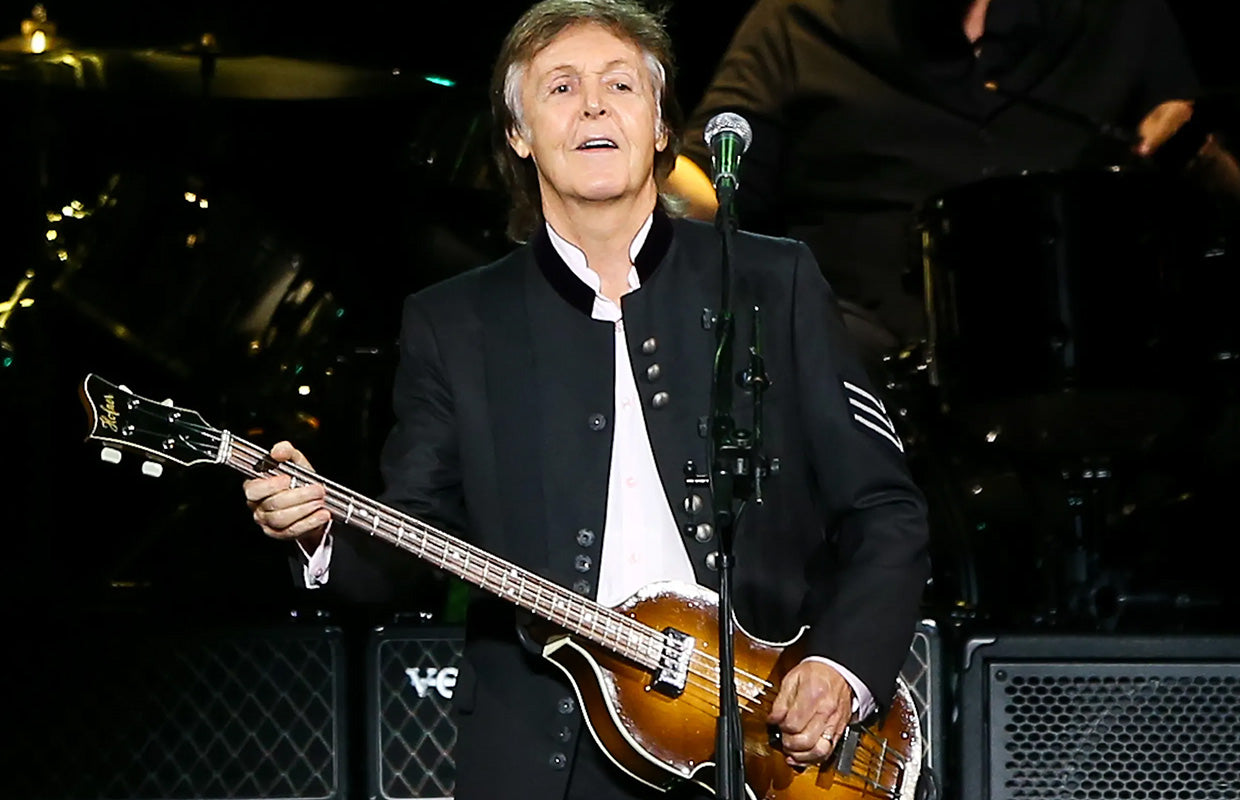 August 22, 2022By Vince Bellino 0 Comment
The Most Famous Left-Handed Guitarists of All Time
Chances are most guitarists you know of are right handed.
This isn't because right-handed people are inherently better at guitar or more inclined to playing, but simply because only 10% of the population is left-handed. Still, a quick run down this list reveals that plenty of legendary guitarists use this less common hand to lay down riffs.
Today's blog will take a look at 10 famous left-handed guitarists and bassists, but keep in mind that it is not ranked. Instead, it celebrates a variety of styles with one important thing in common.
The Most Famous Left-Handed Guitarists of All Time
Though technically ambidextrous—meaning that he could use his right and left hands equally well—Jimi Hendrix always played his right-handed guitar upside down. Whether playing with The Jimi Hendrix Experience or Band Of Gypsies, Hendrix reinvented the language of the guitar over and over again in the span of just a few years.
The Rock and Roll Hall of Fame website describes the left-handed guitar legend as "arguably the greatest instrumentalist in the history of rock music," and it's hard to disagree. Jimi Hendrix deserves to be on every greatest guitarists of all time list, especially when he made this list playing a guitar meant for the other hand. Now, if there was only a way to capture his amazing tone!
Is there a musician more unanimously accepted as being the voice of a decade? Late frontman Kurt Cobain was the face of Nirvana, a band that was, in turn, the voice of the '90s and leaders of the grunge movement. Cobain was a high-energy guitarist who could do it all: the jagged, explosive riffs in "Territorial Pissings," super-massive pop hooks in "Smells Like Teen Spirit," and brooding, heart-wrenching versions of Nirvana's songs in the band's iconic MTV Unplugged live recording.
Cobain worked with Fender to create the Jag-Stang, a combination of the Fender Mustang and Jaguar guitars. Though he didn't play it often, the iconic and weird guitar is associated with the left-handed guitarist and recently reentered production to commemorate the 30th anniversary of the band's landmark Nevermind album.
As the one consistent member of heavy metal godfathers Black Sabbath, Tony Iommi became the band's heart and soul. Throughout a changing lineup of singers and rhythm sections, Iommi led the band with his dark, bluesy riffs that laid out the future of heavy metal and its myriad of subgenres.
For nearly 50 years, the left-handed guitarist wrote some of the most iconic heavy metal albums of all time, from the genre-redefining self-titled to doom opus Paranoid to the Dio-fronted epic Heaven and Hell. It's not an exaggeration to state that the most important heavy metal guitarist of all time is left handed!
Sir Paul McCartney has been playing in bands for over sixty years. First starting out with John Lennon in The Quarrymen, the duo began a legendary songwriting partnership that would help catapult the Beatles to their widely-agreed-upon status as the most influential rock band of all time.
Following the dissolution of the Beatles in 1970, McCartney formed Wings with wife Linda, writing classics like "Maybe I'm Amazed." Wings split up in 1981 and McCartney has enjoyed a successful solo career ever since. The craziest part? It may not have happened if McCartney hadn't restrung the right-handed guitar his father gave him in order to play left handed. Paul McCartney may very well be the most famous left-handed guitarist (or musician in general) of all time.
If you were active in the punk scene at any point after 1988, then you should already be very well aware of Mr. Tim Armstrong. After the breakup of cult legends Operation Ivy, who released an EP and revered album Energy, guitarist and singer Armstrong played in numerous other bands before starting Rancid.
Launching to fame through collaborations with their longtime friends in Green Day (who still show their appreciation for Armstrong over 20 years later by regularly sneaking a cover of Operation Ivy's "Knowledge" into their setlist, as seen above) and the overnight success of their 1995 punk classic ...And Out Come the Wolves, Rancid quickly found themselves going from playing small local venues to headlining open air festivals across the globe.
As someone who helped re-introduce punk to a worldwide audience, Armstrong undoubtedly deserves a spot on our list of the best left-handed guitarists.
When Slipknot burst onto the scene with their 1999 self titled debut album, the masked, jumpsuited, keg-bashing nu-metal crew was unlike anything most of the world had ever seen. Each member was an essential piece of the Slipknot puzzle, and founding bassist Paul Gray helped shape the band's rhythm section into an extreme, driving force.
After Gray tragically passed in 2010, the band's future was unclear but ultimately they chose to forge ahead. The four albums that Gray performed on remain high-water marks for nu metal and leave Gray as one of the best left handed bass guitarists to touch heavy music.
Zacky Vengeance and his partner in shred, Synyster Gates, are one of the best modern guitar duos, genre be damned. Starting off as the solo guitarist in Avenged Sevenfold, he recorded all guitar parts on the band's debut album, Sounding the Seventh Trumpet. The legendary leftie found his real footing, however, when Gates joined the band and the two settled into a rhythm/lead relationship.
No matter what album cycle the band was on—metalcore classic Waking the Fallen, the unexpected heavy metal of City of Evil, the Metallica and Guns N' Roses worship on Hail to the King and the surprise concept album The Stage—Vengeance is a consistently important part of the band's sound. In a list of famous modern left-handed guitarists, Zacky V is the top of the pile.
It's not just in his name—Albert King was once called a King of the Blues, alongside B.B. King and Freddie King (no relation between any of the three). Striking quite the image as a large man playing a right-handed Flying V flipped upside down, King served as a strong influence for left- and right-handed guitarists for generations, inspiring the likes of Stevie Ray Vaughn, Mick Taylor, Joe Walsh and Jimi Hendrix.
King received almost every accolade possible, including multiple Grammy nominations, inductions into the Memphis Music Hall of Fame, Blues Hall of Fame and Rock and Roll Hall of Fame, plus recognition on the Mississippi Blues Trail. If you're learning how to play blues guitar, your first assignment is to study King's playing.
Ice T was already an established rapper—an OG of the gangsta rap scene—when he formed Body Count with Crenshaw High School friend and left-handed guitarist Ernie C. The band first rose to prominence when they played during half of Ice T's Lollapalooza set before their 1992 self-titled debut.
To date, Body Count has released seven albums with an eighth on the horizon. Throughout, Ernie C. remained the band's principal songwriter. The band was nominated for a Grammy for "Best Metal Performance" in 2017 and won the same category in 2020 for the song "Bum Rush." As half of the writing unit for the band, Ernie C's contributions are invaluable; after all, it's not easy to combine rap and rock without veering into corny territory.
A musician really deserves their flowers when they're cited as an influence by The Beach Boys, Pete Townshend, Jimi Hendrix, Eddie Van Halen and Brian May, plus the entire heavy metal genre. As the pioneer of surf guitar, Dale invented the surf style of guitar by using a base of Middle Eastern guitar scales and experimenting with reverb. By his second album, he was known as the King of Surf Guitar, which he confirmed by using the title as an album name.
Dale is also credited with popularizing tremolo picking, a technique essential to extreme metal, making him another early godfather of the genre. He also worked with Fender to develop amplifier technology, including the first 100-watt amp, as well as portable reverb effects.
Playing in a similar style to the previously-mentioned Albert King, Dale turned his right-handed guitar upside down rather than restringing it like Hendrix did. Even after he began playing instruments meant for left-handed guitarists, Dale could be seen playing with this reverse stringing technique.
Final Thoughts: The Most Famous Left-Handed Guitarists of All Time
Whether you're a right- or left-handed guitarist, these riffs and songs sound better with the right tone. A powerhouse 40 Watt combo, Spark is a smart amp and app that jams along with you using Intelligent Technology, with backing tracks available for any style you play. Including over 10,000 tones (and counting!) on the Positive Grid ToneCloud, you'll never run out of inspiration. Plus, you can use Spark as your USB audio interface for easy home recording and track your ideas with the included PreSonus Studio One Prime recording software. Find out more here.
---
Vince Bellino is a "professional" heavy metal nerd. His work has appeared in Decibel, The Daily Dot, Philadelphia Weekly and more.