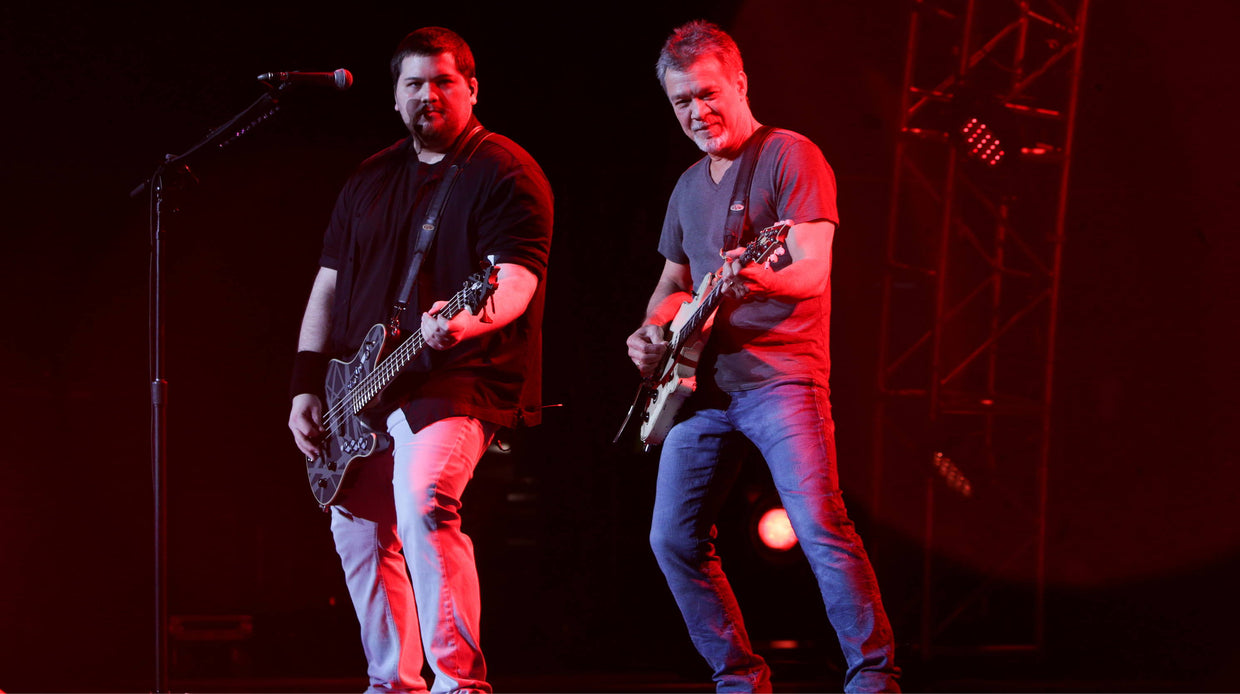 August 22, 2022By tom.gilbert@positivegrid.com BigCommerce 0 Comment
10 Rock and Roll Dads with Equally Cool Musician Kids
By Vince Bellino
Most musically-inclined kids grow up idolizing rockstars and their dad, but if you're lucky–like the kids in this article–your dad is both! That's right–there are plenty of successful rockers that have gone on to produce musical offspring of their own, with some of them making it to the world's biggest stages in their own right.
This Father's Day, we're taking a look at some of the greatest guitarist dads whose kids also rock. Let's get right to it!
10 Rock and Roll Dads with Equally Cool Musician Kids
Eddie and Wolfgang Van Halen

Name a more important electric guitar innovator of the modern age than the late Eddie Van Halen—we'll wait. Eddie's son Wolfgang joined Van Halen as full-time bassist in 2006, touring with the band for the first time in 2007 and recording A Different Kind of Truth in 2011. Wolfgang toured with VH three times before the band's end, and his parents cited him as a force in helping the elder Van Halen remain sober. Though the world lost the guitarist to cancer in 2020, Wolfgang Van Halen carries the flame onward–his band Mammoth WVH released their debut album in June, 2021.
When Robert Trujilo joined Metallica in 2003, he had some pretty big shoes to fill—it's no small task to live up to Cliff Burton and Jason Newstead. His son Tye also had some pretty big shoes to fill when he joined Korn's South American tour in 2016, filling in for bassist Fieldy.
As it turned out, things went quite well, with Tye earning high praise from Korn band members and fans alike. These days, the bassist plays in Suspect208 alongside Slash's son London Hudson (Scott Weiland's son Noah is also a former member of the band).
With a 40-year career of crafting his Grammy-winning blend of rock, soul and pop, Lenny Kravitz isn't your average rock and roll dad. And as it turns out, the creative apple doesn't fall far from the tree in the Kravitz family, and his daughter Zoë is a mega-famous artist in her own right. In addition to starring in High Fidelity (2020), Big Little Lies and many other hit movies and shows, Zoë fronts electropop/R&B duo Lolawolf.
Billie Joe, Joey and Jakob Danger Armstrong

Bay Area stadium punkers Green Day are no longer snot-nosed kids singing about pot and masturbation. They're punk rock dads now, with both of Billie Joe Armstrong's sons carrying on the legacy. Jakob Danger has a solo career and formerly released music on the now defunct Burger Records, while Joey Armstrong is known as the drummer for California punks SWMRS. Jakob Danger has also been known to occasionally join SWMRS as a live member, proving that music can oftentimes be the glue holding a family together.
Guns N' Roses guitarist Slash is one of the most iconic six-string slingers of all time, with his signature top hat, Les Paul and memorable guitar riffs inspiring thousands of fans to pick up the guitar. Son London didn't wait long to get into the family business—he formed his first band Classless Act in 2016 when he was 14 years old, as a drummer. He quickly earned his stripes at high profile gigs before dad called Classless Act up to the big leagues, giving them an opening slot for Slash featuring Myles Kennedy and the Conspirators in 2018.
Classless Act are still active, and Hudson is also a member of Suspect208 alongside Tye Trujilo.
Phil, Todd, Dane and Tyla Campbell

Plenty kids of rock royalty have performed shows or one-off gigs with their rock and roll dads, but Phil Campbell and the Bastard Sons take it a step further.
After jamming at a family birthday party, the former Motörhead guitarist tapped his three sons—Todd, Dane and Tyla—to join up with him. Now signed to Nuclear Blast, Phil Campbell and the Bastard Sons' latest album, We're the Bastards, came out in 2020. The album was produced by guitarist and harmonica player Todd, proving that, sometimes, family does know best. The band recently parted ways with vocalist Neil Starr, but say they plan to soldier on with scheduled appearances.
Scream for me, Harris family! Iron Maiden founder and bassist Steve Harris needs no introduction after helping mold the band into one of the most influential metal acts ever. Maiden faithful may also know George Harris, Steve's son, as the guitarist in The Raven Age, a groovy, melodic metal band which opened for Maiden on their 2016 Book of Souls tour. The band is coming back hot after the coronavirus pandemic, with festival appearances scheduled for 2022.
Grace McKagan, whose father is Guns N' Roses bassist Duff McKagan, started young like many of the names on this list. At age 15, she formed The Pink Slips and dropped several releases before moving on to a solo career. Daughter McKagan's music—written alongside Awolnation drummer Isaac Carpenter and guitarist Blues Williams—combines indie rock, pop and a touch of darkness to round out a style that sounds right at home in a smoky dive bar.
Frank Zappa is one of the greatest and most experimental minds to touch the guitar. Releasing nearly 60 albums with little regard towards genre or its conventions, Frank Zappa took formats of rock, jazz and classical and spliced them with improvisation and sound collages. His son Dweezil was born into the industry and learned from the greats, releasing his first single at age 12, featuring production by Eddie Van Halen. Dweezil contributed to his late father's albums many times and, in addition to a successful solo career, he performs his father's music as Zappa Plays Zappa.
Bob Dylan is a quintessential American musician, so it makes sense that his knack for songwriting lives in his son, too. Jakob Dylan rose to prominence in the '90s with his band The Wallflowers, with whom he won multiple Grammys. Both Dylans are still active today, with Jakob releasing an album in 2019 and Bob in 2020.
Final Thoughts: 10 Rock and Roll Dads with Equally Cool Musician Kids
Whether your pops is a bonafide rockstar, a weekend warrior, or an occasional player, all of us at Positive Grid would like to wish them a very happy Father's Day.
Looking for a last minute Father's Day gift? Sounds like the job for Spark, our #1 best selling practice amp. A powerhouse 40 Watt combo, Spark is a smart amp and app that jams along with you using Intelligent Technology, with backing tracks available for any style you play. Including over 10,000 tones (and counting!) on the Positive Grid ToneCloud, you'll never run out of inspiration. Find out more here..
---
Vince Bellino is a "professional" heavy metal nerd. His work has appeared in Decibel, The Daily Dot, Philadelphia Weekly and more.