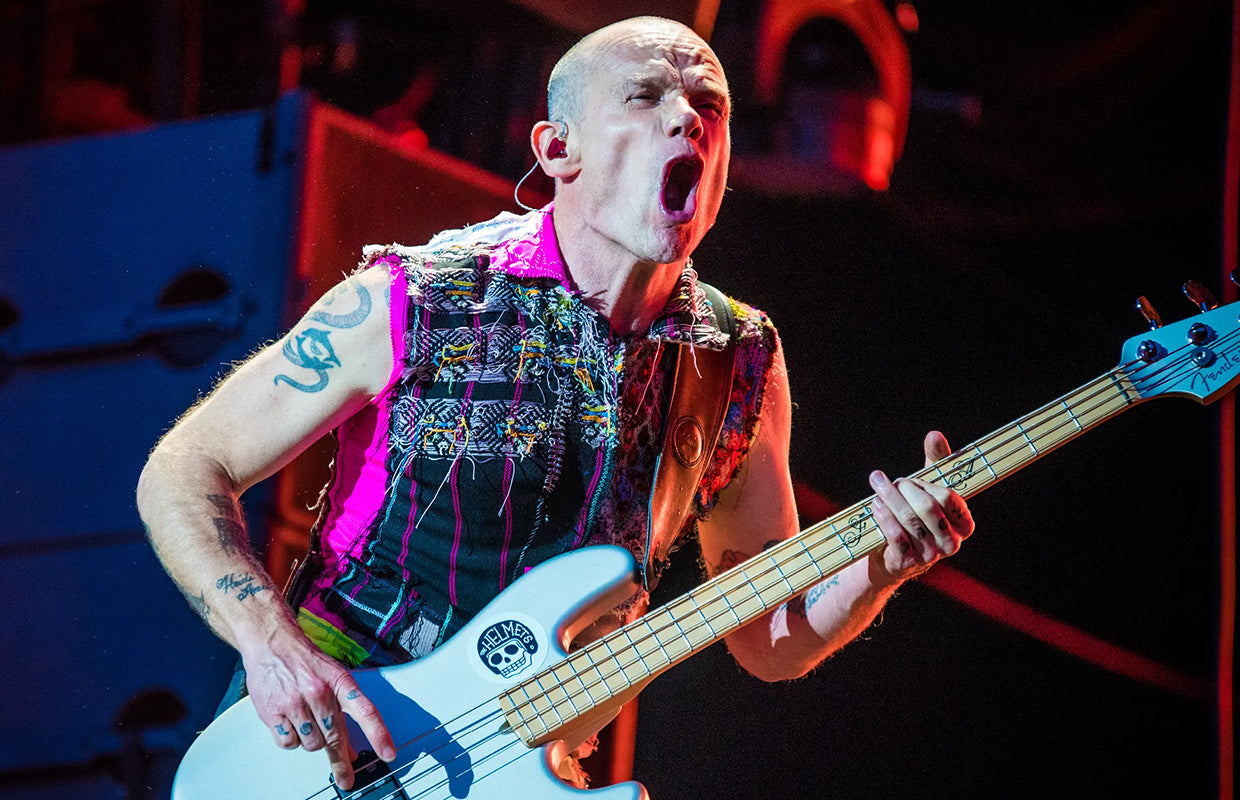 August 22, 2022By Brad Tolinski 0 Comment
The Best Home Recorded Albums Ever
It's no surprise that artists love having a home studio. Not only is it cheaper than having to pay for studio time, but they can record ideas whenever inspiration strikes, whether it's 3 p.m. or 3 a.m. While building one was a bit of a complicated task in the early days of recorded music, these days it's not unusual to hear about a home recording going Platinum or winning a Grammy.
Most recently, Billie Eilish and her brother Finneas recorded their Number One debut album, When We All Fall Asleep, Where Do We Go? at home. Since then, it has achieved the almost unbelievable feat of being streamed over 4 billion times.
Here is our list of some of the best home recorded albums in the history of rock music, and hopefully they will inspire you to make a little history of your own.
Bob Dylan and The Band
The Basement Tapes (1975)
In 1966, at the height of his fame, the legendary songwriter Bob Dylan was injured in a motorcycle accident, but he wasn't about to let a cracked vertebrae and a concussion slow him down. While he recovered, he invited the members of The Band to come to his home in Woodstock, New York to collaborate on some music with him. Together, the unit recorded close to 100 songs, first in Dylan's house, then in the basement of a house rented by The Band in the nearby town of Saugerties.
According to keyboardist Garth Hudson, "We were doing seven, eight, ten, sometimes fifteen songs a day. Some were old ballads and traditional songs, but others Bob would make up as he went along."
While the vibe was casual, The New York Times hailed the home recorded music as "one of the greatest albums in the history of American popular music."
Paul McCartney
McCartney (1970)
After the Beatles called it quits, Paul McCartney retreated to his home in London to lick his wounds. Stunned and feeling depressed, he channeled his frustration and disappointment into a series of home recordings that some have hailed as the "birth of indie rock."
Much of McCartney was captured in Sir Paul's living room on a basic Studer four-track recorder and a single microphone. A mixing desk he had ordered was yet to arrive, so the microphone was initially plugged directly into the tape machine. While the solo album was initially critically panned for its bare-boned simplicity, in recent years it has come to be regarded as a remarkably honest and heartfelt statement, featuring some of McCartney's very best work like "Maybe I'm Amazed," "Teddy Boy" and "Junk."
Rolling Stones
Exile on Main Street (1972)
It's a little hard to call the Rolling Stones' Exile on Main Street a "home recording," but that's exactly what it is. In mid-1971 the band packed their bags and moved into a gigantic villa in the South of France, primarily to avoid British taxes and the UK police who were intent on busting the group for their prolific drug use.
Deciding to make the best of their time, they hired a mobile recording studio to pull up outside the house while they created some of their greatest music in a sweaty and cavernous basement area.
Rolling Stone magazine listed the home recorded masterpiece as Number 7 on its list of the 500 Greatest Albums of All Time. Not bad for a bunch of "runaway outlaws using the blues as its weapon against the world."
Epic Records initially wanted Boston to record their debut album in Los Angeles with a record producer, but the band's guitarist and mastermind, Tom Scholz, had something else in mind. In an elaborate ruse, Scholz tricked the label into thinking the band was recording on the West Coast, when in reality, the bulk was being tracked solely by him at his Massachusetts residence.
His home studio, which featured a 12-track Scully recorder and a Dan Flickinger console, was described by Scholz as a "tiny little space next to the furnace in this hideous pine-paneled basement of my apartment." There was a Hammond organ and a Leslie speaker stuffed in the corner of the room alongside the drums; but the room was so small that whenever it was time to record organ parts, they would have to tear down the drums to use the Leslie.
Perhaps even more shocking was the fact that the acoustic guitar parts on the massive-sounding home recorded hit "More Than a Feeling" was performed on a humble $100 Yamaha six-string.
The classic album, with additional hits like "Foreplay/Long Time" and "Peace of Mind," was ultimately recorded for just a few thousand dollars, but went on to sell 17 million copies in the U.S. alone.
Bruce Springsteen
Nebraska (1982)
In 1982, Bruce Springsteen was one of the biggest rock and roll stars in the world. He was known for massively produced albums like Born to Run and The River. As usual, he began work on his sixth studio album, Nebraska, by recording demos for the album at his home on a modest Teac four-track cassette recorder. The demos were sparse, using only guitar supplement with dashes of harmonica, mandolin and some keyboards.
After he completed the demos he brought his ideas to his band, but after much deliberation decided the songs were too personal, and the raw emotion on the home tapes could not be equaled in a group setting.
Describing his demo process, Springsteen told Rolling Stone magazine, "I could sing and play the guitar, and then I had two tracks to do something else like overdub a guitar or add a harmony. And that was the tape that became the record. It's amazing that it got there, because I was carrying that cassette around with me in my pocket without a case for a couple of weeks, just dragging it around. Finally, we realized, 'Uh-oh, that's the album.'"
Nine Inch Nails
The Downward Spiral (1994)
Okay, our list is called the "best home recorded albums," but we didn't specify whose "home." Leave it up to Nine Inch Nails mastermind Trent Reznor to find the most messed-up pad on the planet to record 1994's The Downward Spiral, one of the biggest musical bummers ever committed to tape.
In 1992, Reznor searched for, and moved to 10050 Cielo Drive, the location where the members of the Manson Family murdered actress Sharon Tate in 1969. He specifically chose the address to enhance the bad vibes of the album, detailing the destruction of a man from the beginning of his "downward spiral" to his death by suicide.
The rocker then spent 18 months recording there, using a large console and two Studer machines to capture the bleak music.
Red Hot Chili Peppers
Blood Sugar Sex Magik (1991)
Like Reznor, in 1991 the Red Hot Chili Peppers were also looking for an unconventional setting to record their fifth album. They were looking to create something truly magical, and producer Rick Rubin had an awesome idea: Why not record at the Los Angeles mansion of the legendary magician Harry Houdini?
The band loved the idea and a crew was hired to set up a recording studio and other equipment in the impressive residence. There was one drawback. Guitar John Frusciante recalled: "There were definitely ghosts in the house...but they were very friendly," he added. "We had nothing but warm vibes and happiness everywhere we went in the house."
Each member of the band chose their own room. Kiedis liked his space so much, he decided to record all his vocals there, including the band's biggest hit "Under the Bridge."
By the end of their time in the Houdini house, the Chili Peppers had indeed pulled a rabbit out of their hat. The Blood Sugar Sex Magik album peaked at Number 3 on the US Billboard 200, and yielded no less than four hit singles and sold over 17 million records worldwide.
The White Stripes
De Stijl (2000)
In the summer of 2000, a 25-year-old Detroit upholsterer named Jack and "sister" Meg (later revealed to be his ex-wife) released their second album as The White Stripes. The scuzzy-sounding 14-song collection, entitled De Stijl, was just 37 minutes in length and was the furthest thing from what anyone would remotely call "commercial." In fact, it sounded like someone had put the brain-rattling punk of The Cramps and the raw Delta blues of Robert Johnson in a garage rock blender and turned it to "puree."
Recorded with an eight-track analog tape deck in Jack White's red-and-white living room, no one really thought it would do anything. However, the De Stijl album, released on the West Coast indie label Sympathy for the Record Industry, became a surprise underground hit, eventually clawing its way to Number 38 on Billboard's Independent Albums chart.
Surprisingly, Jack and Meg's next album, White Blood Cells, featuring the hit "Fell in Love with a Girl," became even a much bigger smash, and the band eventually went on to become genuine alt-rock superstars.
But it all began in the house that Jack built, demonstrating for all time that a little grit, determination and a funky home studio is really all you need to climb to the top.
Mac DeMarco
Salad Days (2014)
It's hard to pin down Canadian singer-songwriter Mac DeMarco's sound, but his eclectic, slightly disheveled indie pop almost never fails to put a smile on your face. There is something sort of relaxed and lived-in about his music, so it's not surprising to discover that much of it is created from the comfort of his own home.
Perhaps the most famous example is the music heard on his celebrated 2014 album, Salad Days, album which was recorded entirely in his Brooklyn, NY apartment using a Focusrite ISA One analog preamp and a Fostex A-8 tape machine.
Part of the reason DeMarco tends to record at home is that he prefers a lo-fi aesthetic, but on Salad Days he claimed he was just too worn out to go anywhere else. "The mood for Salad Days was, 'I was just on tour for a year and a half and I'm tired," he laughed.
Hatebeak
The Number Of The Beak (2015)
As we stated earlier, one of the benefits of recording at home is that it's much cheaper than going to a studio. This has made it easier than ever to record some truly out-there stuff, such as parrot-fronted death metal band Hatebeak. Yes, you read that correctly.
The brainchild of underground metal legend Blake Harrison (and his parrot Waldo), Hatebeak has recorded one full-length album and four EPs all from a makeshift home studio. "We record [the instruments] in [guitarist] Mark's band room or a spare room," says Blake. "If we like it, then we will put a microphone in front of Waldo and get anywhere from ten to 40 minutes of him just doing what he does."
The band has even inspired a few other animal-fronted metal acts, including the pitbull-fronted Caninus.
Is this one of "the best home recorded albums ever" due to the sheer brilliance of its music? Well, no. However, we think this is a perfect example of the creative risks you can take with your music when funds aren't holding you down.
Final Thoughts: The Best Home Recorded Albums Ever
Want to make the most of your very own home recording journey? BIAS FX 2 is an award-winning amp-and-effects processor that turns your computer into a fully customizable guitar and bass rig. With a massive collection of amps, effects and HD racks, plus our newly introduced Guitar Match technology, it's easier than ever to dial into your dream tone without leaving your home. Find out more here.
---
Brad Tolinski is perhaps best known for his work as the editor-in-chief of Guitar World magazine for 25 years. He is also the author of Light and Shade: Conversations with Jimmy Page (Crown); and Play It Loud: An Epic History of the Style, Sound and Revolution of the Electric Guitar (Doubleday), which was the basis for a 2019 guitar-focused exhibition at the Metropolitan Museum of Art in New York City. Most recently he edited the 50th Anniversary Commemorative Issue of CREEM magazine, and his latest book Eruption: Conversations with Eddie Van Halen (Hachette) will be coming out in October 2021.