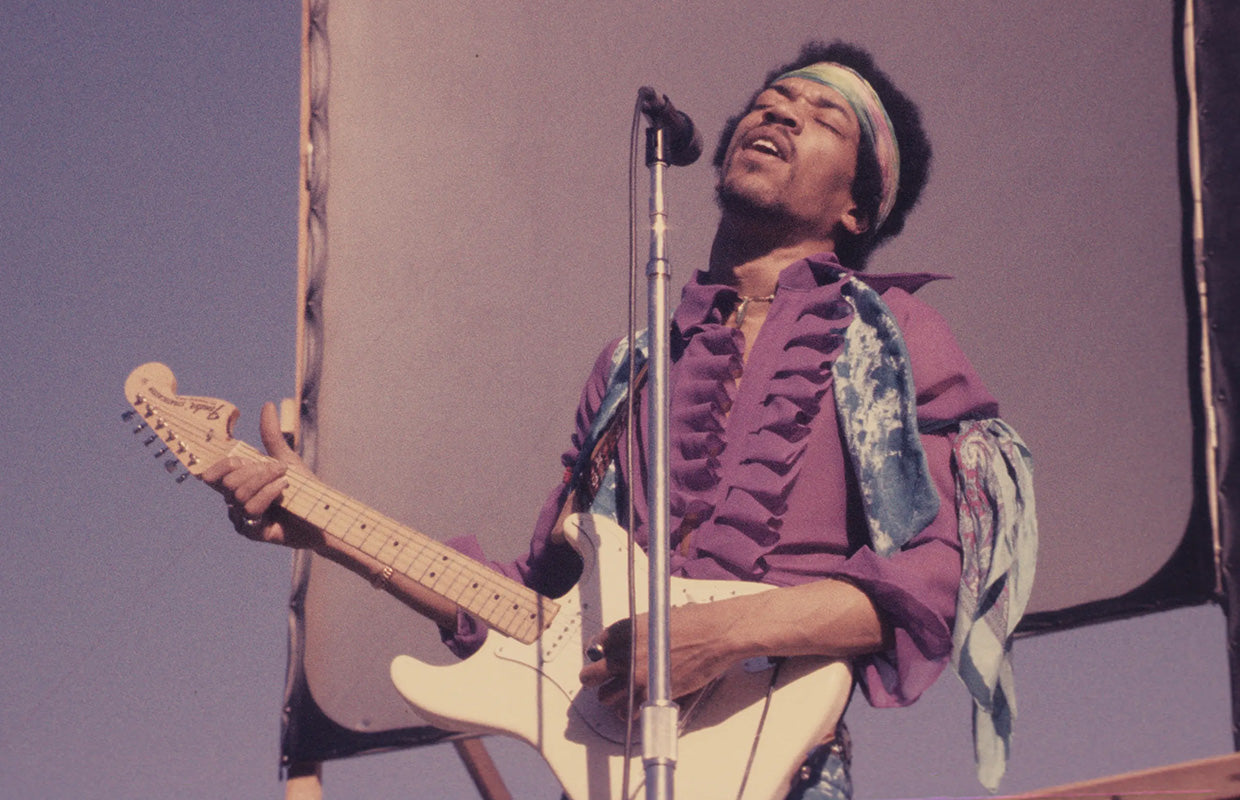 August 22, 2022By Brad Tolinski 0 Comment
The Best Jimi Hendrix Covers of All Time
Photo By: Richard Peters / © Authentic Hendrix, LLC
Okay, okay, no matter who you are or how well you play, you'll probably never perform a Jimi Hendrix song as well as the main man himself. But that doesn't mean you shouldn't try!
Hendrix songs are incredibly fun to play, and the people on this list have done fabulous interpretations of some of the maestro's greatest hits. These picks range from faithful recreations to completely unique takes on the legendary guitarist's tunes, and quite frankly all of them kick ass.
While none of these cover versions ever quite top the original, each are "as bold as love" in their own way.
The Best Jimi Hendrix Covers of All Time
Stevie Ray Vaughan
"Voodoo Child (Slight Return)"
The genius of Stevie Ray was his ability to pluck a great Hendrix song out of the cosmos and return it to Earth from whence it came. Where Jimi's original version of "Voodoo Child (Slight Return)" is like diving into deep space, SRV's grittier version is like digging into rich Texas soil. Not saying one is better than the other, it just depends on your choice of scenery.
While Prince famously hated being compared to Hendrix, there's no doubt that he had the upmost respect for the legendary guitarist. The Purple One was known to cover a few Hendrix tunes in his day, but his version of "Red House" was arguably his most famous one. You have to be a little patient on this one for the guitar fireworks to begin, but when they explode about seven minutes into the song, you'll be glad you did.
You gotta hand it to John Mayer—the dude has balls. There aren't many mainstream pop musicians that can get up and sing and play something as challenging as "Bold As Love" without any other accompaniment and knock it out of the park. Through the years, Mayer has challenged himself—and his young audience—to grow, change and evolve. And that's a good thing.
Andy Aledort with Billy Cox and Buddy Miles
"Machine Gun"
Who on earth would be nuts enough to try to play "Machine Gun," perhaps Jimi Hendrix's greatest and most challenging guitar performance? How about Guitar World transcription guru (as well as frequent Positive Grid blog contributor) Andy Aledort? Of course, it helps when the original Band of Gypsys rhythm section of bassist Billy Cox and drummer Buddy Miles are backing you, and original Hendrix engineer Eddie Kramer is at the board. Still, this 2009 performance by Aledort is damned remarkable!
Derek and the Dominos
"Little Wing"
Where Jimi's original version of "Little Wing" is a study in delicacy, this Derek and the Dominos track—featuring the cascading guitars of Eric Clapton and Duane Allman—sounds like a triumphant march. Recorded shortly before Hendrix's death in 1970, it was intended to be a heartfelt tribute to a living legend. But after Jimi died, it took on new meaning. With its swirling guitars and emotionally-charged vocals, it took on the teary-eyed grandeur of a heavenly choir singing its ass off at a Viking funeral.
We often celebrate Hendrix as rock's greatest guitar player, but he was also a helluva songwriter. While guitarist Ron Wood does a fine job reinventing Jimi's guitar parts to suit his own chunky rock and roll style, it's singer Rod Stewart that shines as he captures all the tender nuances of "Angel," a ballad Jimi wrote in tribute to his late mother, Lucille.
DEVO
"Are You Experienced?"
Much like Jimi, the fine folks in DEVO never let traditional musical conventions hold them down. The New Wave group has a long history of producing far-out covers of the early rock and blues music that inspired them, so it only makes sense that they would add a Hendrix song to the list. This one is a fun, original take that still holds on to what made Hendrix's version so special.
The Pretenders
"Roomful of Mirrors"
Hendrix clearly loved "Roomful of Mirrors." He loved it so much that—despite many attempts—he could never capture it to his satisfaction in the studio. Over 20 years later, The Pretenders did a fine job picking up the pieces of his shattered psychedelic masterpiece, by turning it into a head-spinning, echo-drenched meditation on the difficulty of living in the material world.
Tommy Emmanuel
"Purple Haze"
When we heard that the ultimate master of the acoustic guitar, Tommy Emmanuel, recorded the ultimate electric guitar song, "Purple Haze," we Googled it as fast as our little fingers could carry us. Emmanuel's version is pretty damned fun, and manages to transform one of the most iconic guitar riffs of all time into something that's distinctly his.
Brian May
"One Rainy Wish"
Recorded for his 1998 solo album, Another World, this version of the Hendrix classic by Brian May is both brilliant and thoroughly wacky. But what else would you expect from the guitarist of the brilliant and wacky Queen?
Eric Johnson & Doyle Bramhall II
"Drifting"
"Drifting," one of Jimi's greatest ballads, is a delicate and devilishly tricky song to perform. Doyle Bramhall II provides a soulful vocal and rhythm accompaniment, while Eric Johnson does a wonderfully nuanced job capturing the spirit of the original lead guitar part, recreating many of the licks that Hendrix recorded backwards. The tempo is slow, but the complexity of the chord changes makes this one of Hendrix's more difficult songs to master, which is probably what made it irresistible to this dynamic and brilliant guitar duo.
Final Thoughts: The Best Jimi Hendrix Covers of All Time
Get ready to unleash the revolutionary Jimi Hendrix sound with the Experience Jimi Hendrix™ collection of amps, effects and all new interactive features, created exclusively for Positive Grid's #1 best-selling Spark practice amp and BIAS FX 2 guitar software.
In this official collaboration with Authentic Hendrix™, we've meticulously recreated Jimi's famous gear and unmistakable sound. From gritty fuzz to psychedelic modulations, you can plug into and customize his legendary tone using our Spark amp or BIAS FX 2 software to forever change the way you play guitar.
We've compiled these tunes into a handy Spotify playlist for your listening pleasure. Make sure to follow us on Spotify for lots more guitar-driven music!
---
Brad Tolinski is perhaps best known for his work as the editor-in-chief of Guitar World magazine for 25 years. He is also the author of Light and Shade: Conversations with Jimmy Page (Crown); and Play It Loud: An Epic History of the Style, Sound and Revolution of the Electric Guitar (Doubleday), which was the basis for a 2019 guitar-focused exhibition at the Metropolitan Museum of Art in New York City. Most recently he edited the 50th Anniversary Commemorative Issue of CREEM magazine, and his latest book Eruption: Conversations with Eddie Van Halen (Hachette) will be coming out in October 2021.