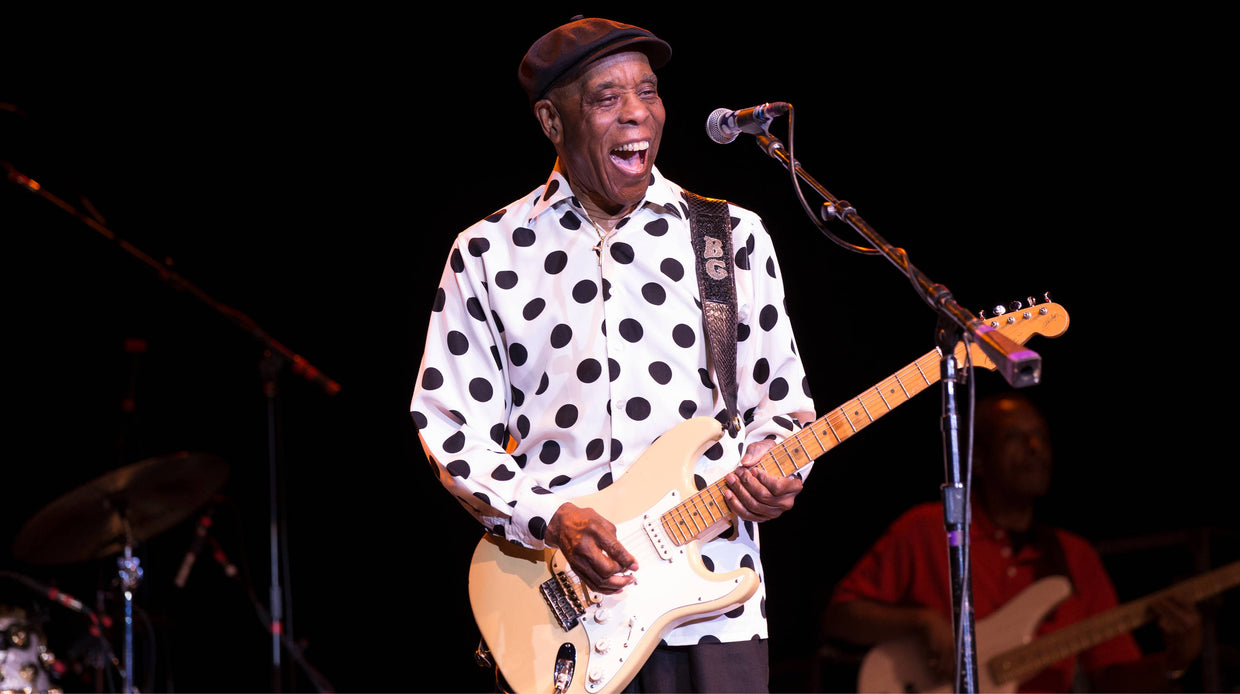 August 22, 2022By tom.gilbert@positivegrid.com BigCommerce 0 Comment
The Best Blues Guitar Solos of All Time
By Brad Tolinski
The blues has taken many forms since its origins in the early 20th Century and has been played by thousands of gifted musicians. It was nearly impossible to narrow this list down to 10 of the best blues guitar solos, but we offer this list of blues solos as a starting point for your own explorations of this brilliant art form. If you hear something you like, dig further. If you're already familiar with some of these songs, most are worth listening to again. Each offers a lifetime of guitar education and enjoyment!
Otis Rush
"I Can't Quit You Baby"

Otis Rush is one of the many great Chicago blues guitarists that doesn't get the attention he deserves. While his original version of "I Can't Quit You Baby" is not quite as flashy as Led Zeppelin's famous remake, it has a slinky style of its own that makes it one of the best blues guitar solos ever. Rush's voice is volcanic, his guitar vibrato is celestial and his licks flow like sweet hot butter. And you might be cool, but you'll never be Otis Rush in his sunglasses cool.
One of the "Three Kings of the Blues Guitar" (along with Albert King and B.B. King), Freddie had a major influence on electric blues and on many later blues greats like Eric Clapton and Stevie Ray Vaughan. There are so many stunning Freddie King solos that it's almost impossible to choose one. "Hide Away" is on this list simply because, if you want to call yourself a "blues guitarist," it is one of the songs you must learn to play. The good news is, this blues guitar solo tab is not super difficult, but it's jammed with cool riffs and—as you can see from the video—a total crowd pleaser. This is without question one of the greatest blues guitar solos ever.
Albert King and Stevie Ray Vaughan
"Don't Lie to Me"

If you want to know where Stevie Ray Vaughan copped many of his licks, look no further than this astonishing YouTube video. Stevie was always quick to give credit to Albert King, and in this amazing clip they both offer a master class on lead playing, bending notes and the proper way to play rhythm. Albert was ranked 13 on Rolling Stone magazine's 100 Greatest Guitarists of All Time, and considering his influence on SRV, Hendrix, Joe Bonamassa and others, maybe he should've been ranked higher. (By the way, check out our list of the greatest guitarists of all time right here!)
B.B. King
"Three O'Clock Blues"

B.B. King is perhaps the most famous blues guitarist of all time due to his incredible guitar vibrato and his deeply expressive singing. It just wouldn't be right to leave him off of a blues guitar solo list of any kind. "Three O'Clock Blues," recorded in 1951, was the song that launched his career and he played it many times throughout his life, most notably in 2000 with Eric Clapton on their joint Riding with the King album. On this sophisticated version of one of the best blues songs ever, B.B. demonstrates his brilliant control over dynamics and his ability to mix standard blues licks with surprisingly jazzy runs that never repeat themselves.
Buddy Guy
"Damn Right I Got the Blues"

Buddy Guy was one of the original wildmen of the Chicago electric blues. Unlike the subtle riffing of B.B. King, Guy's playing explodes with excitement and manic energy. It's no wonder his early music made a huge impact on the young Jimi Hendrix and Jeff Beck. The awesomely titled "Damn Right I Got the Blues" was recorded in 1991 when Guy was already in his 50's, but he shows he still had it at that age, earning its spot on this best blues guitar solos list.
Allman Brothers Band
"Statesboro Blues"

This opening track to 1971's At Fillmore East by the Allman Brothers Band brought slide guitar into the modern era and changed the way people viewed the technique for decades after. Performed in an open E tuning, guitarist Duane Allman plays his parts with such precision and absolute freedom that it set the bar for all future electric slide players. However, nobody could touch him then, and nobody can touch him now. Good luck topping him with your own blues solo!
Johnny Winter
"Be Careful with a Fool"

In the late 60's, nobody played faster than Johnny Winter. But unlike other players that used speed as a mode of expression, Johnny never lost the funk in his playing. "Be Careful with a Fool" features one of the best blues guitar solos ever – from his jaw-dropping dexterity to his soulful vibe. While some people were critical of Winter for his speed, the great Muddy Waters praised Johnny's playing and called him "his son." If you are not familiar with this blues genius, be prepared to be blown away.
Eric Clapton
"Born Under a Bad Sign"

Those that know Eric Clapton from pop songs like "I Shot the Sheriff" or "Tears In Heaven" might wonder why people regard him as such a great blues guitarist. Well, kids, once upon a time in the 60's he was one of the greats, and his amazing solo on this driving interpretation of Albert King's "Born Under a Bad Sign" shows why. Brimming with urgency and unprecedented lyricism, it is one of Clapton's best blues guitar solos, and his knockout version on Cream's 1968 Wheels of Fire turned millions of people on to the blues when it was still considered a niche black art form.
Led Zeppelin
"Since I've Been Loving You"

"Stairway to Heaven" be damned, this complex take on a minor key blues is Jimmy Page's greatest moment as a guitarist and has one of the greatest blues guitar solos ever. Far from a standard three-chord blues progression, "Since I've Been Loving You" touches on just about every chord in the key of C minor, and even wanders to a straight C7 at one point. This amazing blues guitar tab is held together by Page's brilliant use of minor and blues scales combined in a new and unorthodox way. As Page once said, "['Since I've Been Loving You'] was meant to push the envelope. We were playing in the spirit of the blues, but trying to take it into new dimensions dictated by the mass consciousness of the four players involved."
Tedeschi Trucks Band
"Midnight in Harlem"

Every time slide guitarist Derek Trucks picks up the guitar he makes an extraordinary sound. By combining the blues-rock of Duane Allman with the micro tones used in traditional gospel and blues singing and Indian music, he has created a startling original musical vocabulary. His magnificent slide technique is clearly rooted in blues, but, at the same time, it reaches for the cosmos. "Midnight in Harlem" from the 2011 Revelator album is just one example of Trucks's mind-blowing playing...there are many, many more.
Play a Blues Guitar Solo like the greats
If you're looking to replicate the sound of any of these phenomenal guitarists (with a library of over 10,000 more tones to discover), we urge you to check out our Spark smart amp and app. The amp includes an array of incredible features, including Smart Jam, where Spark learns your style and feel to generate authentic bass and drums and to accompany you. If we can be so bold, it's the only practice amp you'll ever need!
---
Brad Tolinski is perhaps best known for his work as the editor-in-chief of Guitar World Magazine for 25 years. He is also the author of Light and Shade: Conversations with Jimmy Page (Crown); and Play It Loud: An Epic History of the Style, Sound and Revolution of the Electric Guitar (Doubleday), which was the basis for a 2019 guitar-focused exhibition at the Metropolitan Museum of Art in New York City. Most recently he edited the 50th Anniversary Commemorative Issue of CREEM magazine, and his latest book Eruption: Conversations with Eddie Van Halen (Hachette) will be coming out in October 2021.