August 22, 2022By tom.gilbert@positivegrid.com BigCommerce 0 Comment
The Best Gifts for Guitar Players
By Brad Tolinski
Do you have the task of buying a great holiday gift or gadget for the guitarist in your life? Don't fret! No matter what your budget is, let us provide you with some awesome suggestions of gifts for guitar players. Whether you're in the market for strings (guitar players always need more of those!), or an incredible practice amp (see below), you'll find something in the following list that will have your special guitar-playing someone—even if it's yourself—smiling well into the upcoming new year.
Best Gifts for Guitar Players
Spark Series Smart Guitar Amp
No question about it – Spark series guitar amps have taken the guitar community by storm, and have been hailed by Guitar World, Guitar Player, TechCrunch and Engadget as some of the best and most advanced guitar products in the last few years. Whether you're shopping for a touring guitarist or a student who's just getting started, Positive Grid's line of incredibly innovative practice amps has you covered. All Spark amps come jam-packed with smart features that help you learn and practice, while also making daily playing fun and extremely addictive. Get room-filling sound with the original Spark or go portable with tiny powerhouse, Spark GO.
Price: $129-299
Buy here: Spark 40 | Spark MINI | Spark GO
Stringjoy Guitar String Subscription
There's nothing quite like a new set of strings to make a guitar sound like a million bucks, but remembering to buy them can be a royal pain. Well, tell your favorite guitarist to worry no more. With the Stringjoy guitar string subscription service, you can send a fresh set of guitar strings straight to their door at regular intervals year around. Simply choose the strings you want to subscribe to, how often you want them delivered, and Stringjoy will take care of the rest. If you ever need to change the brand, delivery frequency, or your payment or shipping info, you can cancel or edit your current subscription at any time right from an online account page. A great gift idea for guitar players!
Price: $11.90 - $37.90
Buy here: stringjoy.com/categories/subscriptions


OMNYSS Sonically Disruptive Gear Collection
Looking to make it an otherworldly holiday? Plug into the all-new, sonically disruptive OMNYSS gear collection. OMNYSS is built for seriously epic soundscapes with 3 all-new amps and 6 effects – and the massive riffs you'll be inspired to write might just knock down the Christmas tree. Powered by Positive Grid's award-winning BIAS FX 2 guitar software, you can connect to OMNYSS with RIFF, a plug & play audio interface built for guitarists, by guitarists. More on that below.
Price: OMNYSS - $99
Buy here: OMNYSS 


BIAS FX 2 Guitar Amp & Effects Software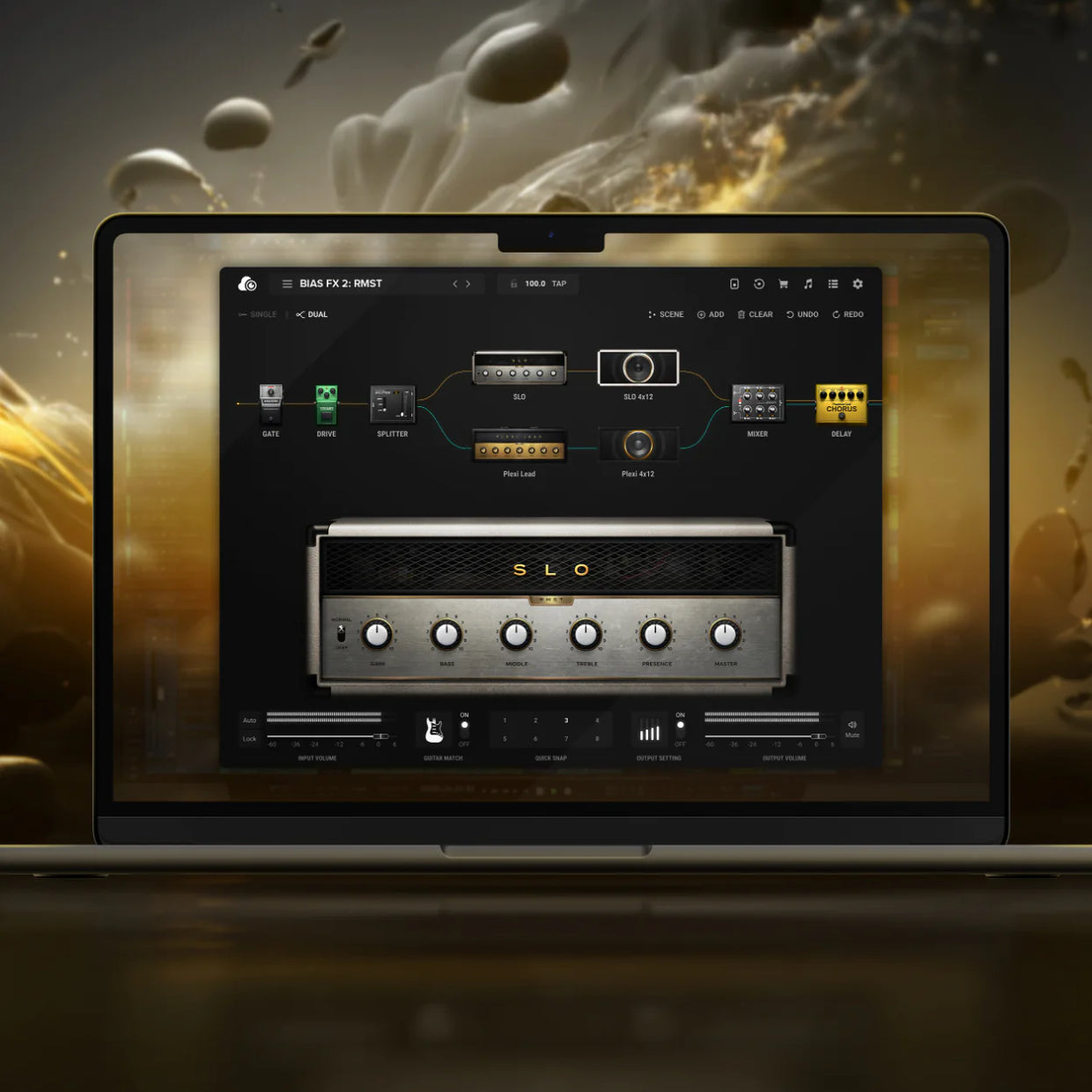 Give the guitarist in your life the ability to create the virtual guitar rig of their dreams with Positive Grid's award-winning guitar amp & effects software – BIAS FX 2. This absolute powerhouse of software can turn any computer or mobile device into a fully customizable guitar and bass rig. And better yet, BIAS FX 2 has been given a full facelift this year with updates that include a brand-new DSP, all-new amps and effects, performance enhancements and much much more. Now has never been a better time to dive into the world of BIAS.
Price: $99 for the Standard license
Buy here: https://www.positivegrid.com/products/bias-fx-2
Dunlop Trigger Capo
Your husband, wife, son or daughter may have a capo, but probably not one as durable, stylish and easy to use and the Dunlop Trigger Capo. This professional curved-radius acoustic guitar capo allows you to quickly and easily change key with a squeeze of the hand without hindering your fingers or scratching the neck of your guitar. The Trigger also comes in an assortment of cool colors including black, gold, nickel and brushed metal. A great gift for guitar players and a perfect stocking stuffer.
Price: $21.51
Positive Grid RIFF Guitar Audio Interface
Supercharge your home rig with RIFF – a plug & play audio interface built for guitarists, by guitarists. RIFF transforms your computer or mobile device into a fully loaded dream guitar rig, letting you take full advantage of our award-winning BIAS FX 2 amp & effects software. It's truly everything you need for playing, recording, and practicing guitar.
Price: $179
Buy here: www.positivegrid.com/products/riff


ESP LTD EC-256 Guitar
The LTD EC-256 takes many of the coolest aspects of ESP's higher-end EC Series models, and offers them in a super-affordable guitar guaranteed to make any holiday brighter. Its classic shape is excellent for all musical styles and genres, and it features the kind of multiple bindings on the body and headstock that you'd expect on a much more expensive instrument. The EC-256 features a mahogany body, fast three-piece thin U-shaped mahogany neck, and a roasted jatoba fingerboard with 22 extra-jumbo frets. Two ESP designed LH-150 humbucking pickups complete the picture. The EC-256 would be a sweet Christmas purchase at twice the price.
Price: $449
Buy here: espguitars.com/products/9572-ec-256-blk


Sennheiser HD 300 Pro Headphones
Looking for amazing value in professional monitor headphones? The newly developed Sennheiser HD 300 PRO delivers a neutral, high-resolution working sound, which is why it ranks high on our best gifts for guitar players. Its huge depth of detail passes through even in the loudest of environments. No matter if you are editing, playing or composing music, and regardless of whether you're behind a drum kit, at the mixing desk, in a live setting or in the studio, the HD 300 PRO provides the details that you need for making good playing or production decisions.
Price: $200
Buy here: en-us.sennheiser.com/hd-300-pro


Eruption: Conversations with Eddie Van Halen
In Eruption, music journalists Brad Tolinski and Chris Gill share with fans, new and old alike, a candid, compulsively readable, and definitive oral history of the most influential rock guitarist since Jimi Hendrix. The book is based on more than 50+ hours of unreleased interviews they recorded with EVH over the years, most of them conducted at the legendary 5150 studios at  Ed's home in Los Angeles. The heart of Eruption is drawn from these intimate and wide-ranging talks, as well as conversations with family, friends, and colleagues. A must-read for any guitarist, and a perfect addition for under the tree. 
Price: $17.99
Buy here: amazon.com/Eruption-Conversations-Eddie-Van-Halen/dp/0306826666


Hercules Double Guitar Stand
Get those guitars off the couch and onto a stand! The Hercules dual guitar stand with auto grip system is the safest and most secure way to store guitars and save precious floor space. Plus, it's a great way to put those guitars on display for everyone to enjoy.
Price: $90
Buy here: https://www.sweetwater.com/store/detail/GS422BPlus--hercules-stands-gs422bplus-plus-series-universal-autogrip-duo-guitar-stand-with-foldable-backrest
Truefire Gift Certificate
Looking for a great Holiday gift for a guitar player but tight on time? With a TrueFire E-Gift Certificate, your guitar player playing loved one can get access to 40,000+ interactive video guitar lessons including 900+ guitar courses, 30,000+ tabs, 20,000+ jam tracks, plus a free download bonus, new releases every week, and much, much more! They also can choose to download awesome guitar courses from famous and popular educators like Steve Vai, Matt Schofield, Larry Carlton, Tommy Emmanuel, Robben Ford, David Grissom, Johnny Hiland, Sonny Landreth, Andy Timmons, Carl Verheyen, Dweezil Zappa, and many others.
Price: $25 - $300
Buy here: truefire.com/gift-certificates


If your girlfriend, wife, mother or daughter rocks, let them know how you feel with this unique She Rocks ceramic mug. They'll be thrilled! And better yet, let them know the profits go to The Women's International Music Network (thewimn.com) which brings women from all facets of the music industry together. The organization produces events, creates opportunities for performance and networking and works to bring the conversation around diversity in the industry into the forefront. The WiMN seeks to create a hub to connect women in all facets of the music industry and works to expose role models, events and educational opportunities that focus on women in music.
Price: $15
Buy here: thewimn.com/product/she-rocks-hand-mug/


Final Thoughts: Best Gifts for Guitar Players
It's no secret that shopping for guitarists can be an overwhelming task, so we hope this gift guide provides you with some peace of mind and eases your holiday shopping experience. Whether the guitarist in your life is interested in recording, sharpening their skills, or just jamming out in the new year, take comfort knowing that you can deliver the perfect present.
---
Brad Tolinski is perhaps best known for his work as the editor-in-chief of Guitar World Magazine for 25 years. He is also the author of Light and Shade: Conversations with Jimmy Page (Crown); and Play It Loud: An Epic History of the Style, Sound and Revolution of the Electric Guitar (Doubleday), which was the basis for a 2019 guitar-focused exhibition at the Metropolitan Museum of Art in New York City. Most recently he edited the 50th Anniversary Commemorative Issue of CREEM magazine, and his latest book Eruption: Conversations with Eddie Van Halen (Hachette) is out now.